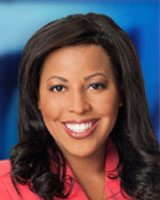 Carolina Leid joined the Eyewitness News Team in January 2008 as a general assignment reporter.

Carolina comes from Cleveland where she worked as a general assignment reporter and fill in anchor.
There, she broke the story of a homeowner's association management company pocketing hundreds of thousands of dollars in association funds across northeast Ohio without homeowners being the wiser.

Prior to working in Cleveland, Carolina worked as a general assignment reporter in Orlando and fill in anchor in Spanish. She covered four hurricanes in a row and practically lived in a satellite truck for the 2004 hurricane season.

She got her break in television news in Gainesville Florida where she did double duty attending graduate school at the University of Florida and working as a reporter for the abc affiliate.

Carolina holds a bachelor's of science in broadcast journalist at Syracuse University's Newhouse School.

Carolina's mother is from the Dominican Republic and her father is from Grenada. She has fond memories of spending summers in both countries.

Carolina was born in the Bronx and lives in the borough.

---