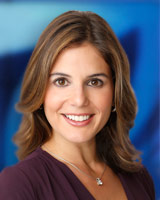 Kristin Thorne is a Long Island correspondent for WABC-TV's Eyewitness News.
Before joining the Eyewitness News team in January 2012, Kristin was a reporter at News 12 Westchester. Before that she worked at WHTM-TV in Harrisburg, Pennsylvania.

Kristin loves being involved with the Long Island community she serves. She is a volunteer with Big Brother, Big Sisters of Long Island and with the Little Shelter Animal Rescue and Adoption Center.

Kristin is a graduate of Georgetown University in Washington, DC and earned her Master's Degree from the prestigious Medill School of Journalism at Northwestern University. She is the recipient of an Emmy Award and has received numerous Emmy nominations. She has also been honored with a regional Edward R. Murrow Award.

When she's not busy working, Kristin enjoys the outdoors. Her bucket list includes white water rafting, competing in a mud race and spending a month working on a winery in Italy.

Kristin lives on Long Island with her husband, two children and her big German Shepard Raina.
---