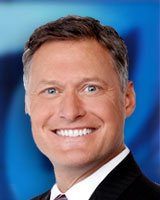 Rob Powers joined Channel 7's Eyewitness News Team as weekend sports anchor in 2009, and took on the role of lead sports anchor in January, 2011. He also fills in as a news anchor for Eyewitness News.

Rob led the station's coverage of championship seasons for the New York Giants, New York Yankees and New York Rangers. He has also provided local coverage of the Super Bowl and NBA All Star Game games when they were held in the tri-state area and has been co-anchor for WABC-TV and ESPN's coverage of the New York City Marathon and NYC Half Marathon. In addition to day-to-day coverage of News York's eleven major league professional sports teams, he has brought viewers amazing stories from dozens of collegiate, high school and youth athletes.

Before coming to WABC-TV, Rob was the longtime Sports Director and 5:30 News Anchor at the ABC owned television station in Toledo, Ohio.

While there, when not anchoring sports, Rob spent time as the television play-by-play voice for University of Toledo football and basketball, as well as the Toledo Mud Hens.

Rob's other television assignments were in Binghamton, New York and Indianapolis, Indiana.

Rob has been honored six times with EMMY awards for his work.
---