NEW YORK (WABC) --
"Bachelor in Paradise" picked up with Graham having an anxiety attack as AshLee was about to hand out her rose.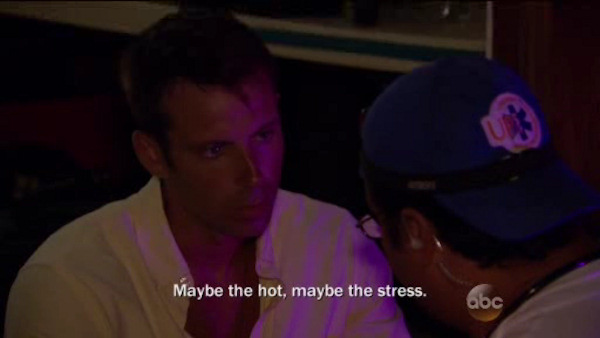 He saw the medic who calmed him down and gave him some water. He rejoined the rose ceremony and accepted AshLee's rose. What the heck? I was shocked he accepted it. Maybe he sees it as an opportunity to stay in the house and possibly meet someone new. Then Lacy ran off and started to throw up! So did they all eat something bad or what? Marcus pleaded with her to go to the hospital outside the bathroom door and said that he would go with her. I wonder if all of these people are dehydrated from drinking lots of alcohol in the heat there. You have to remember to drink lots of water too!
The rose ceremony continued Michelle chose Cody, Sarah gave Robert a rose, and Jackie chose Jesse. That sent Marquel and Kalon home. That was a quick stay in paradise for Kalon!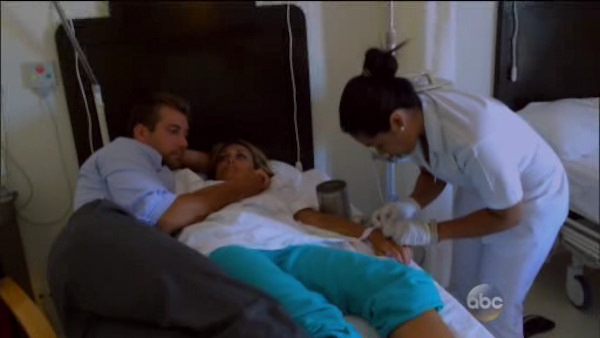 The update at the hospital was that Lacy was dehydrated! At least that means after some IV fluids, she would be just fine and could rejoin the show.
Christy from Juan Pablo's season joined the show and she decided to ask Sarah for advice on whom to ask on a date. She doesn't know if she should ask someone who's already coupled up or not. Christy decided to ask Zack out on a date. He said no because of Clare and Clare couldn't be happier about that. So, she moved on to her second choice Jesse. Jesse did say yes and I'm guessing that Jackie won't like that.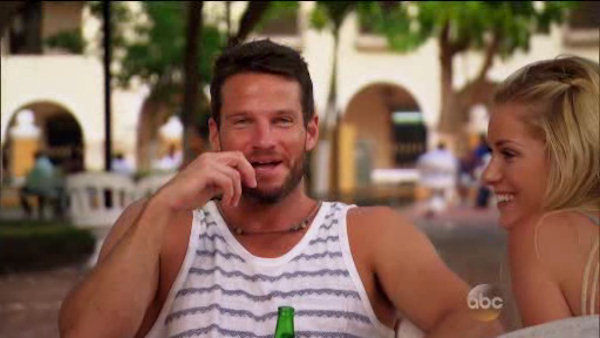 Jesse and Christy went on their date. They went shopping and stopped at a liquor store where they sampled some tequila. Jesse is stoked that he's giving out a rose this week and is in control unlike last week where he was at the women's mercy. She talked to Jesse about her cheating ex and how she saw a bra in his bed. He said if he was her ex he would have said the bra wasn't his. If he was a douche bag (apparently you can say that on TV who knew?). I think that throws up a big red flag, but then again, she is attracted to his "type".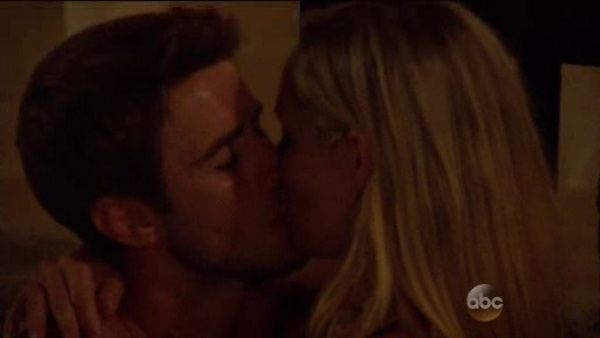 Sarah got a date card and of course asked Robert. She says that she really wants to get a kiss from him so hopefully her wishes come true. They had a romantic dinner outside what looked like a big hot tub. He accidentally shoved food in her face at one point, but they laughed it off. He told her that the best part of being on the show was meeting her and going on all the fun dates. He missed the opportunity for a kiss at dinner and just asked her to go in the pool. Sarah really wants to get out of the friend zone. Finally, at long last, he kissed her! She loved it!
Michelle and Cody continued their chatty romantic relationship and it was moving fast. It actually is starting to freak her out a bit. Meantime, Jesse and Christy were making out and Jackie was starting to get suspicious. For some reason Clare and Zack continued to have the same conversation about whether or not he was into their relationship. She abruptly got up and went to bed. Zack said that he didn't mean to start a disagreement and it seems like he's kind of over it.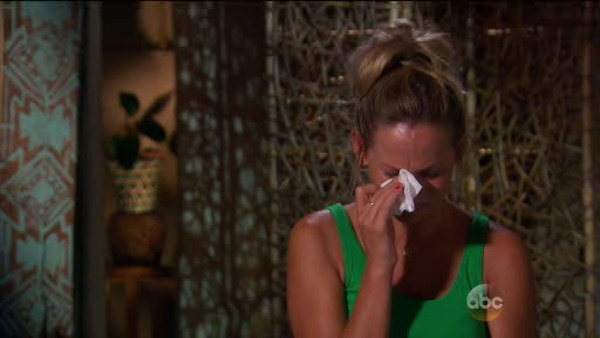 Clare went off into the jungle and started uncontrollably crying. She said she's sick of the drama and it's giving her a panic attack on national television and it's making her look like a fool...again. I don't think she looks foolish, just a little needy. She tells Michelle that she's leaving. She said she spoke to the producer and a car is waiting and she's done. Clare wakes Zack up and says there are basically too many red flags and it's time for her to leave. She says, "I have to go blow my nose. Awesome, I'm going out looking like *expletive* once again." Wow, poor Clare. I just want that poor girl to be happy already!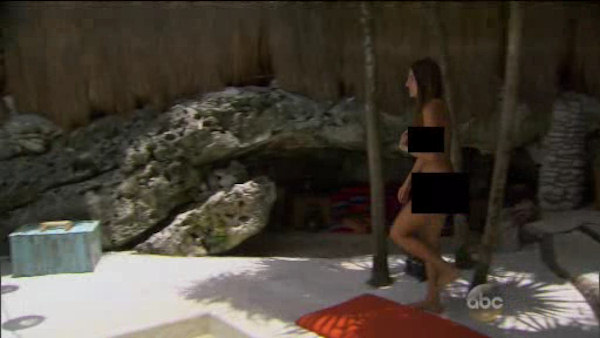 Lucy the "Free Spirit" showed up next. She pranced around naked. Is this "Dating Naked"? Did I miss something? The ladies got a little uncomfortable. The guys loved it of course. She asked Jesse out on a date and he said he'd never been out on a date with a topless lady. She said that she might not be topless on the date and he says, "It's cool I'm into it." Oh really?
On the date, Jesse and Lucy walked around the ruins and she could care less that Christy made out with him on a date already. She said they aren't best friends so who cares?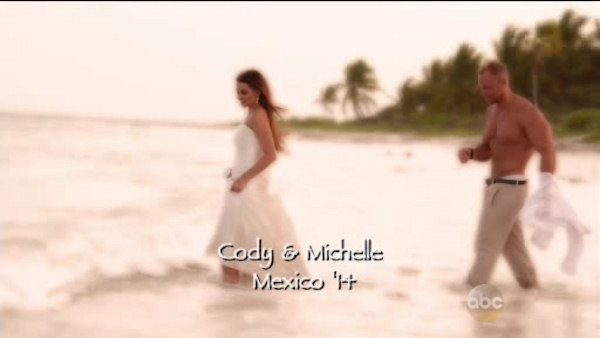 Michelle got a date card and she of course chose Cody to go on the date. They got picked up in a black SUV and went for a photo shoot. It was kind of like you would do for a wedding, and the photos were really sweet. He said that he really wants to continue things with her even beyond the show. He's so smitten! I love how he just is always up to have a good time! Michelle started to freak out though because then they actually wanted her to wear a wedding dress for the shoot! She didn't really want to do it because she's been married before and it just put her in a weird place and how strong his feelings for her already. She continued to freak out while they were getting their photos taken and I have to say, they look super cute together.
Graham got to go racing with AshLee. It seems like he's willing to give her a chance despite her gossiping about Clare to Zack.
Meantime, on the beach, it got awkward for Christy. Sarah and Robert were making out pretty much in front of her. She was mad that no one wanted to drink with her. Also on the beach, Marcus told Lacy that he loves her. It is official, we've got a couple in love!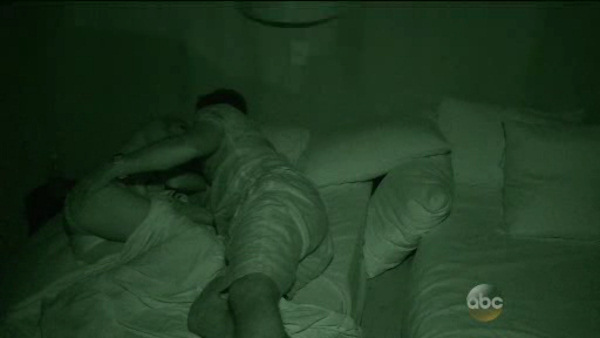 Lucy and Jesse did some crazy handsy action and it was a little gross. They are kind of disgusting together. Jesse handed out drinks to everyone on the beach with Lucy and Christy was very bitter that they are coupled up and she's left out. So she pulls Jesse aside and he tries to reassure her of his feelings and then they start making out! OMG! This is nuts. Things were getting hot and heavy with Christy and Jesse and then Lucy tried to invite herself into bed with them! Is this the first mnage a trios?
Now Jesse has a tough decision on what to do with his rose since he's hooked up with three out of the remaining seven women. Lacy said, "Jesse is definitely the man whore here in paradise." Jesse told Christy that she is "One of his favorites". ICK.
During the rose ceremony Robert picked Sarah, Graham picked AshLee, Cody gave his rose to Michelle and say he's falling in love with her! Marcus chose Lacy of course, and gave a really long speech about how much he loves her. Chris Harrison stood there beaming on the side and Cody even teared up! Zack picked Jackie and last but certainly not least, Jesse chose Christy. That meant that the Free Spirit has been set free again.
Next week, the pressure is amped up as the couples try to determine if they are in "real" relationships and if they are ready for those relationships. Plus two new guys join the show! Jesse continues to whore around, and it seems to finally catch up with him.