NEW YORK (WABC) --
The first blast of winter brought snow, sleet and rain to parts of the Tri-State Area Monday morning, making for treacherous driving conditions during the morning rush hour.
The wintry mix made the roads slippery and caused dozens accidents, especially in areas north and west of New York City. Police in Syracuse say they had responded to more than a dozen weather-related crashes by 10 a.m. Tuesday, while state police say they responded to at least 22 on Albany-area highways, including an accident on Interstate 90 that killed a state corrections officer returning from work.
About 1 to 4 inches fell from the Albany area northwest to the Mohawk Valley and north to the southern Adirondacks, and winds gusting to 45 mph in western New York were blamed for knocking out power to about 5,000 utility customers, most of them in neighboring Chautauqua and Cattaraugus counties.
Locally, snow fell overnight on Long Island before changing over to rain. One driver lost control and flipped over on a ramp along the Sunrise Highway, but escaped with minor injuries.
Sleet was coming down in parts of Rockland and Westchester counties as well, and the speed limit was reduced to 35 miles an hour on the Tappan Zee Bridge as commuters coped with the first traditional weather of the season.
Governor Andrew Cuomo urged commuters to take extra time to reach their destinations.
Connecticut State Police say troopers responded to more than 50 crashes on highways across the state during the storm, but luckily, no major injuries were reported.
Warmer temperatures changed the precipitation to rain later in the morning, and a winter weather advisory expired at 11 a.m. before chilly temperatures warmed up a bit to the above-average level we've grown accustomed to.
The area has done without sanitation trucks this season for longer than almost any year in recent memory, but the mere sight of city salt spreaders at the ready was giving many the chills Monday night.
Commuters bundled up against the damp cold in Parkchester, while sleet fell a bit harder on Long Island. In Selden, ice pellets actually started to accumulate just a bit before they melted away.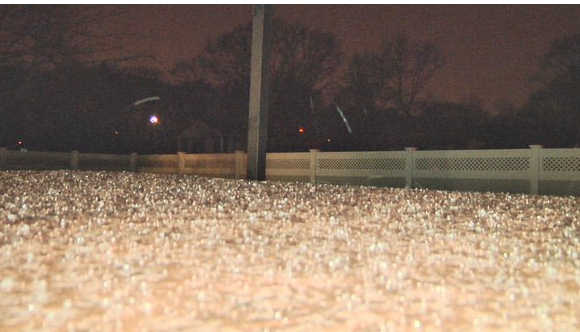 The Department of Sanitation issued an agency preparedness "snow alert," allowing the department to begin to prepare for a possible response by loading salt spreaders, attaching plows, and preparing tire chains. But the New York City area escaped the snow that fell in other parts of New York State overnight.
Click to watch the 7-day AccuWeather forecast
and get the all the weather any time at
abc7NY.com/weather