EAST VILLAGE, Manhattan (WABC) --
Police are on the lookout for a suspect in an unprovoked slashing that left a man with partial paralysis of his face
Saturday afternoon
in the East Village.
30-year-old Anthony Christopher-Smith was walking down East 6th Street near Cooper Square with headphones on around 4:30 p.m. when he was knocked to the ground.
When he got up, he touched his face, and realized that he had been slashed.
"It was a really gruesome attack," said Matthew Vargas-Stehney, the victim's friend.
NEW NYPD SURVEILLANCE VIDEO OF SUSPECT BEING SOUGHT:
Two days after the slashing, Christopher-Smith emerged from Bellevue Hospital Monday night.
His face was swollen from 8-hours of surgery and 150-stitches.
"I hope somebody, if they have information, if they report it as soon as possible because he caught me without warning, without provocation, I have no idea who he was. He could get somebody else," Christopher-Smith said.
"Did he say anything too you at all?" Eyewitness News asked.
"He just cursed," Christopher-Smith said.
He came to the city to hang out with friends and was walking along, when out of the blue he was sliced with a blade.
"I was just walking up the street. I was heading to go meet a friend for lunch and someone just came up and randomly slashed me in the face and back. I never saw this person before. I have no idea who they are. I have no idea what their motivation was. They just came up an attacked me," Christopher-Smith said. "I couldn't call 911 because I bled so much on my phone that I couldn't press the buttons."
Late Monday, police released photos of the man they believe attacked Christopher-Smith Saturday afternoon in the East Village.
PHOTOS OF SUSPECT WANTED IN SLASHING ATTACK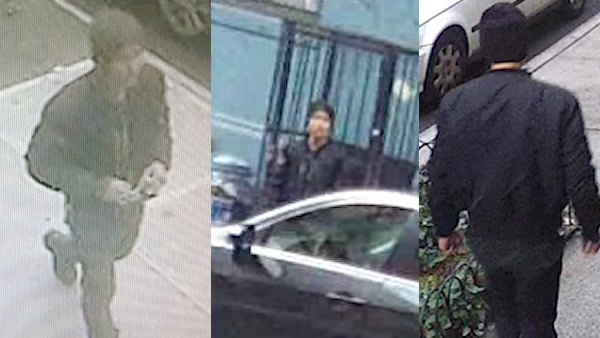 Investigators describe the suspect as a 20 to 30-year-old Asian male, 5-feet 6-inches tall and weighing about 150-pounds. He was last seen wearing a black waist-length jacket, black skull cap, and black pants.
"You can't stop random people from doing random insane things. All you can do is try and catch them and either put them in the hospital or put them behind bars," Christopher-Smith said.
"The people of New York reached out and helped him quickly. I'm grateful for that, and he is recovering well," said Rita Christopher, the victim's mother.
The 30-year-old social worker from Newark also suffered a cut to his back. The laceration across his face damaged four nerves.
"They say I'll be able to smile again fully in six to nine months. So I'm hopeful for that. I won't be able to feel my lower right ear lobe but that is a small price to pay," Christopher-Smith said.
The attack comes after two other random slashings, one in Chelsea, and one in the East Tremont section of the Bronx.
The suspect, according to police, is a male Asian, 20 to 30 years old, 5 feet 6 inches, and 150 pounds. He was last seen wearing a black waist length jacket, black skull cap, black pants and brown boots.
Anyone with any information is asked to call CrimeStoppers at 1-800-577-TIPS