EAST VILLAGE, New York (WABC) --
A 25-year-old man was shot by NYPD officers responding to a call about a man with a knife inside an East Village apartment building.
The man was shot once by officers in a hallway of the Jacob Riis II houses along the FDR Drive just after 12 a.m. Tuesday.
The officers had been called about an emotionally disturbed man brandishing a knife at 911 FDR Drive, according to the New York City Police Department. When they arrived, police found that the man had fled to the Jacob Riis complex at 765 FDR Drive.
They found him armed with a knife in an apartment on the seventh floor. Police said they repeatedly ordered the man to drop the knife, but he instead began advancing in a "threatening manner."
Photo from the NYPD of the knife recovered at the scene: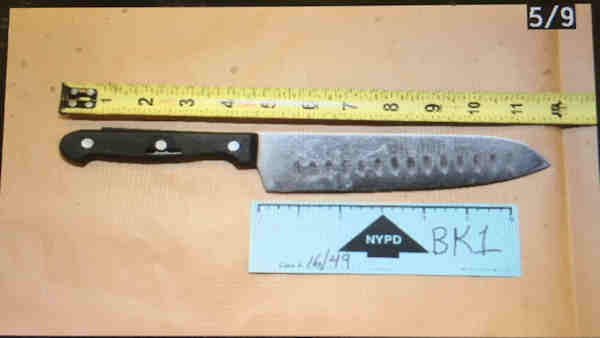 One of the officers fired a shot, striking the man in his chest. He was taken to Bellevue Hospital in stable condition. The officers at the scene were not injured, but were taken to Beth Israel Hospital for evaluation.
The suspect was wanted for questioning in an assault last week and a robbery in September. He has 13 prior arrests, including assault, robbery, drug and weapon possession, tampering with evidence, resisting arrest and escaping from a detention facility.
He was on parole until Nov 2016 for attempting to escape from 100 Centre St. in Lower Manhattan.
The knife was recovered at the scene. An investigation is underway.