NORTH WILDWOOD, N.J. --
New Jersey Governor Chris Christie has apologized to the south Jersey official he referred to as "one crazy mayor" during a campaign appearance Monday night.
Christie called North Wildwood Mayor Patrick Rosenello Tuesday morning, reportedly telling him that he values their good relationship and admitted he said things he shouldn't have.
"I received a call from Gov Christie this morning," Rosenello said. "He apologized to me. He also asked me to apologize to the first responders, and the residents and the business owners...I think he recognizes that he misspoke, and he did."
The controversial comments, which have come under fire on social media and in communities across south Jersey, came as part of an exchange during a town hall event in Hooksett, New Hampshire.
"I take heat for what I say all the time. I called the mayor this morning and I apologized to him. He's a longtime friend," said Christie at a Tuesday afternoon news conference. "I got carried away last night at a town hall meeting, it's not the first time that I've gotten carried away and said something that I later apologized for. Doesn't happen often but it happens."
The governor was asked by a young woman at a town hall why he was campaigning in the state instead of helping survey damage caused by the snowstorm, saying her family and friends in the state were concerned.
Video of the exchange shows Christie responding, "Well because it's already done." He said only one county in the state experienced flooding and asked what she expected him to do.
"You want me to go down there with a mop?" he asked.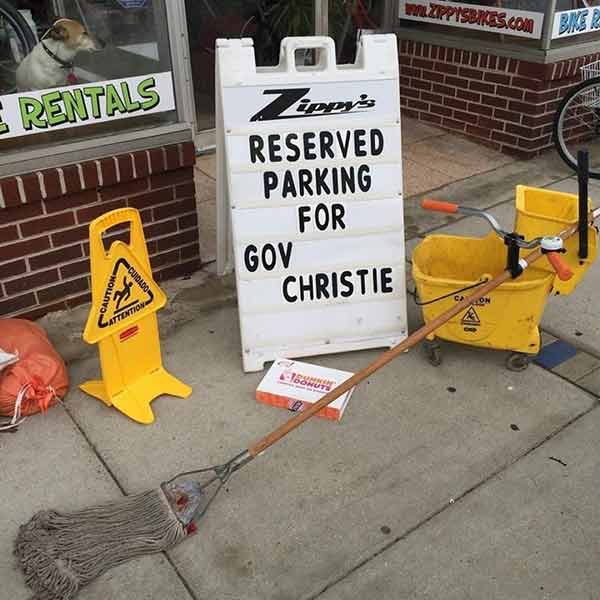 "The fact is, all the roads were cleared and NJ Transit was back up," Christie said. "For the people who did sustain flooding, we had folks on the ground to evacuate them if they needed to be evacuated. No one needed to be evacuated."
Christie went on to say, "I heard one crazy mayor down in south Jersey say this is worse flooding than Sandy. Here's the one thing one thing you need to know about that mayor. His town didn't get hit by Sandy."
Sister station WPVI Action News in Philadelphia interviewed Rosenello in North Wildwood Monday before Christie made his comments, and the mayor said no evacuation was ordered during the blizzard because the storm surge was predicted to be below 9 feet. But that surge was greater than expected, and 150 people did have to be rescued from their flooded homes.
"From a statewide perspective, this storm certainly did not have the impact of Hurricane Sandy," he said. "Locally, in a very localized area, it appears in south Cape May County this storm was worse than Hurricane Sandy."
Tuesday morning, Rosenello responded to Christie's criticism of him, releasing the following statement:
I have watched the video of the comments that Governor Chris Christie made at a campaign event in New Hampshire this evening, where he referred to me as the 'Crazy Mayor of North Wildwood.' As one of his earliest supporters during both of his runs for Governor and having met and interacted with him and his family numerous times over the course of his terms as Governor, I am disappointed that he would lower himself as much as he did this evening.

I am more disappointed, however, in the evident lack of concern or respect that he is showing for the first responders, residents, business and property owners of North Wildwood, Cape May County and other areas of New Jersey impacted by this storm. Having spent the entirety of this event in North Wildwood and coordinating with our emergency responders to safely rescue approximately 150 people from their flooded homes, my perspective is somewhat different from that of the Governor as he campaigns in New Hampshire.