MIDTOWN, New York (WABC) --
Firefighters rushed in to rescue residents from a three-alarm fire at a high-rise apartment building on Manhattan's West Side.
Six people suffered minor injuries in the fire that broke out in a second-floor mechanical equipment room in north tower of the Silver Towers on West 42nd Street just before 7 a.m. Thursday.
The small fire was quickly brought under control, however smoke began filling the 16-story apartment building.
Firefighters searched the upper floors to assist residents who had not left the building.
Firefighters had to break windows and use ladders to get people out of their apartments on the 4th floor.
One mother was feeding her three-week old boy in their 18th-floor apartment when the fire broke out and spoke exclusively to Eyewitness News.
"I twas trying to keep calm because two bad situations going on at the same time, it's not good," said Quenia Sanchez.
Quenia and her boyfriend smelled smoke and called 911.
"We just put a wet towel under the door and opened the window and we just waited for paramedics," said Quenia.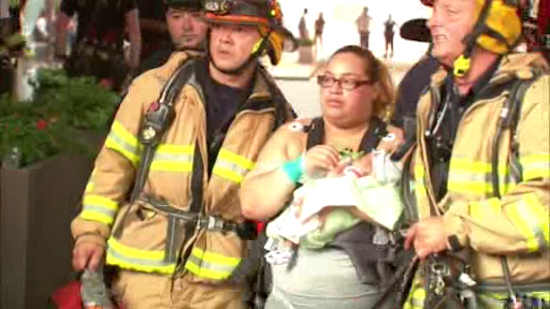 Once paramedics and firefighters reached her, they checked her son Jacob and decided to stay inside the apartment until the smoke and carbon monoxide eased up.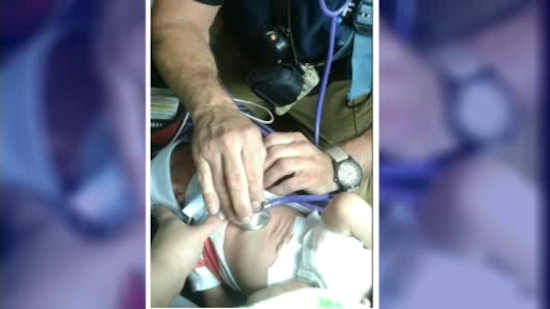 After about 45 minutes they made the journey down the stairs because the elevator was shut off.
"It wasn't too much smoke until we got to the lower levels, then you could really smell it," she said, adding that an oxygen mask was placed on the baby.
Doctors checked Jacob at the hospital and gave him the all-clear.
Video of a couple being brought down an FDNY ladder from their fourth floor apartment (Courtesy: Travis Long)
West 42nd Street was closed for the fire department activity. There was still no elevator service in the building and many apartments were without air conditioning late Thursday afternoon.
New York City Fire Department Manhattan Borough Commander Roger Sakowich described it as a minor fire. Electrical boxes in the equipment room quickly heated up and started emitting carbon monoxide; power had to ultimately be cut to eliminate the source of the carbon monoxide, he said.
Smoke spewed throughout the 60-story building. Four residents were brought down from their fourth-floor window via fire department ladder. One family on the 18th floor had to wait until the carbon monoxide levels dropped so they could leave their apartment.
Firefighters searched 50 apartments and all the elevator cars.
Officials say the 60-story building is a Class 1 fireproof building, which is not required to have fire alarms in the hallways, only in the individual units.
So many residents found out about the fire when neighbors banged on their doors, telling them to get out.
Six people were treated, including an 8-week old baby, who was taken to the hospital. Two firefighters were also taken to the hospital to be checked out.
The cause of the fire is not known.