EAST FLATBUSH, Brooklyn (WABC) --
Police are investigating an officer-involved shooting that left a man injured in Brooklyn Wednesday morning.
The incident happened at Remsen and Ralph avenues at East Flatbush around 11 a.m.
NYPD Chief of Patrol Terry Monahan said that police responded to several 911 calls for a armed man in front of a laundromat on Remsen Avenue, and upon arrival, officers encountered a 23-year-old man with a knife.
"I just saw the police officers outside," said Peggy Hernandez, who works at the laundromat. "They pointed their guns at the victim, and I heard three gunshots and the guy was on the ground."
The officers repeatedly ordered the man, identified as Davonte Pressley, to drop the weapon, at which time he reportedly lunged towards them. One officer discharged his service weapon, striking the man three times in the torso.
"A lady came out from the next door and started yelling and started dialing 911," said Mario Archibald, who works nearby. "As soon as I started dialing 911, it was three gunshots. I didn't know what was happening."
EMS responded and rushed Pressley to Brookdale Hospital, where he is currently listed in critical condition. There, Eyewitness News spoke exclusively with the man's uncle, Daniel Pressley.
"We went around the block, and he was right there, with bullet holes in him," he said. "And I'm like, 'why'd you all shoot him? Why'd he get shot?'"
A knife was recovered at the scene, and the investigation is continuing.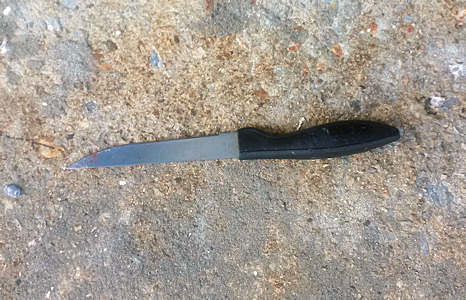 The officer was also taken to a nearby hospital.
There were traffic delays due to part of the crime scene area being blocked off, about a block radius, and residual traffic was carrying over to Kings Highway.