NEW YORK (WABC) --
Protesters gathered in Manhattan during President Donald Trump's first visit to New York City since he was sworn into office.
Protests were held in various parts of the city, including near his home at Trump Tower and the USS Intrepid, where he attended an event.
The demonstrations were in high gear even hours before Trump landed at John F. Kennedy International Airport.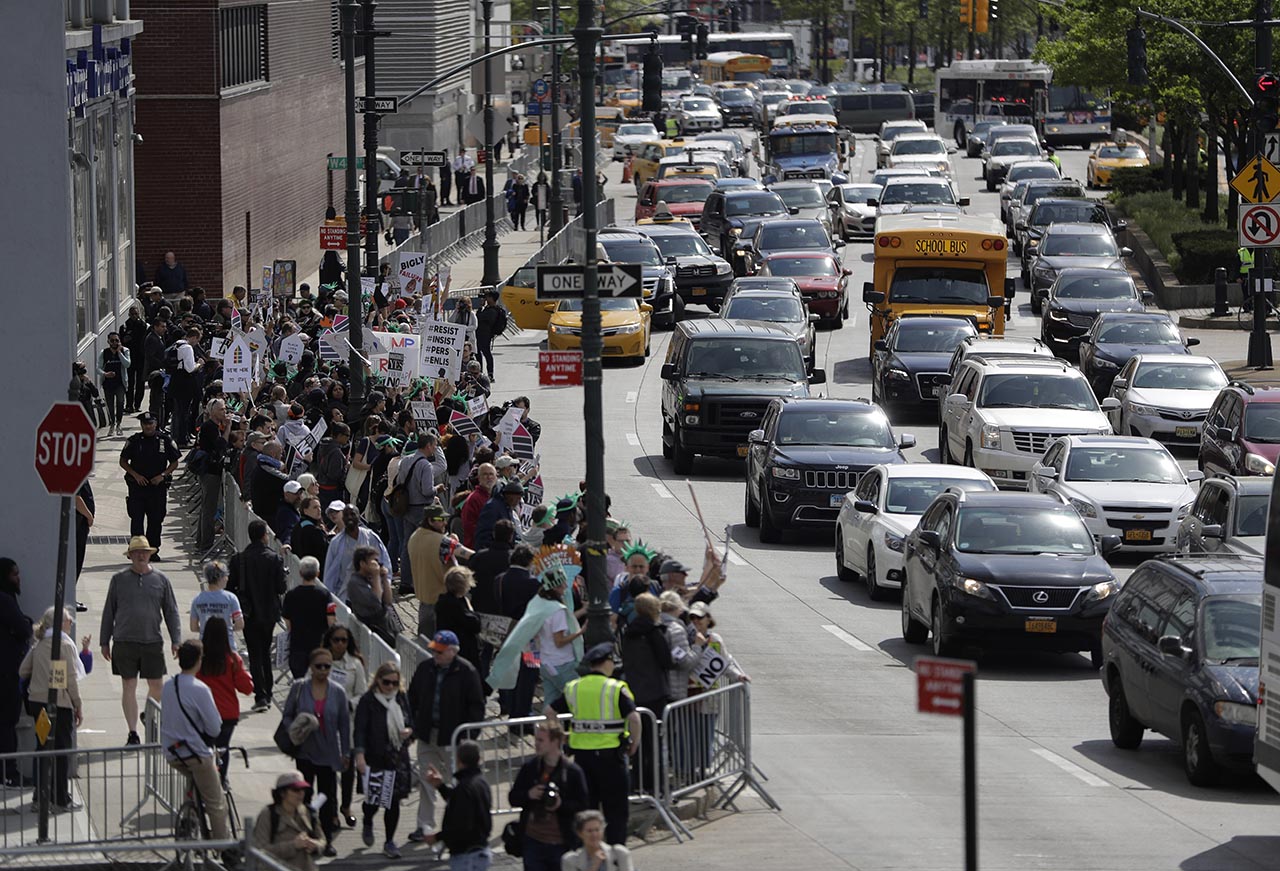 In the end, President Trump spent barely three hours in Manhattan Thursday night. His motorcade whisked him away as quickly as he'd arrived.
As hundreds of protesters got their first and, this trip, only chance to heckle him in person.
"Actually I don't really care if he heard or saw us, this is a message to a world that we have to drive out this Trump-Pence regime," said Travis Morales, a protester.
Their numbers grew for hours on 12th Avenue.
They taunted the tuxedo clad attendees of the dinner event, many of them Australians who really have nothing to do with Trump.
Just after 7 p.m., the motorcade finally arrived.
Activists had planned a series of protests throughout the city, before Trump cut his trip short, making the Intrepid, his only stop.
Emotions were very hot.
"We are horrified by his policies. We are horrified that today he celebrated the effort to take healthcare away from millions of people," said Betsy Malcolm, Upper West Side resident.
"It's going to make a difference in 2018 when we will rise up and the Democrats will take control of the house and senate," said Babatunde Lewis, Parkchester resident.
President Trump did have his supporters, in a separate, smaller pen, and they were just as rowdy.
"I'm a former New York City teacher, and I know what the indoctrination of our students across the country has done to them. They end up like this which is Marxist," said Dorian Marquis, South Bronx resident.
"They don't know what to do with themselves. They should get a job, they should realize that Trump he wants the best for America. He got 306 electoral votes most of American wants him," said Amos Sivan, Flatbush resident.
The Republican president received only 18 percent of the vote in the decidedly liberal city, but his allies say New Yorkers should still salute the historic nature of his visit.