ELMHURST (WABC) --
The man who police arrested in connection with an assault on a woman and her children in Queens was arraigned Friday night.
Detectives found 48-year-old Pedro Vargas at home in Yonkers Thursday night. Authorities said Vargas, of Yonkers, pretended to be a livery driver when he picked up the 26-year-old victim and her children -- ages 1, 3, and 5 -- on 207th Street in Manhattan just before 3 a.m. on Aug. 24.
After driving them to the rear of 7900 Queens Blvd., in Elmhurst, police say he demanded sex and threatened to rape her young daughters if she didn't comply. When she refused, Vargas allegedly went on the attack, yanking the family out of the car and assaulting them.
Police released dramatic surveillance video of the incident that captured the entire incident.
Stunning raw surveillance video:
While the victim was attempting to get out of the vehicle, the video shows the suspect elbowing the 5-year-old in the head and forcibly removing the 3-year-old from the car before fleeing the scene.
The children were taken to Elmhurst Hospital with minor injuries. Vargas is charged with assault and endangering the welfare of a child.
"She didn't have no help and she was by herself and to find that, that happened to her was astonishing," said Jasmine Arroyo, also a parent.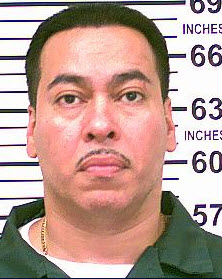 Pedro Vargas seen in a mugshot taken in November 2012.
A diamond pendant belonging to the suspect is one piece of evidence linking Vargas to Sunday's attack, Eyewitness News has learned exclusively.
According to the criminal complaint, Vargas posted bail of $3,500, but is being held on a parole violation. He is due back in court on Tuesday.
Pedro Vargas' attorney said his client admits that's him on surveillance video, but he never assaulted a mother and her three children, much less attempted a sexual assault.
"He is trying to usher her and her children out of the car. He's not trying to keep anyone in the car with him. He wants to get rid of them and get on his way after she refused to pay the fee," said Howard Greenberg, the suspect's lawyer.
"He's not being charged with rape. His DNA is not on her. There's no injuries on him. You mean he tried to sexually assault her and she didn't resist? He doesn't have a scratch on him," Greenberg said.
Authorities say Vargas previously spent 18 years in state prison before being paroled in 2012.
He was sentenced to 15 years to life in 1994 for kidnapping and robbery in Manhattan as well as assorted other robberies in Manhattan and the Bronx. Authorities say he spent two other times in prison on robbery, grand larceny and assault charges.
Officials said Vargas was arrested a dozen times between 1984 and 1994.
Vargas is not currently, nor has he ever been, a TLC licensee. The TLC has 26 people named Pedro Vargas in the system, but none of them is this man.