MIDTOWN, Manhattan (WABC) --
A 60-year-old man was slashed during a "stare down" on the subway in Manhattan Friday morning.
Police said the victim boarded the northbound train on the N/Q/R line at the Times Square/42nd Street subway station at 8:30 a.m.
The suspect was standing in the doorway, blocking the path, and bumped into the man as he entered. The two stared at each other and words were exchanged.
The suspect then took out a small pocket knife and slashed the victim, according to police.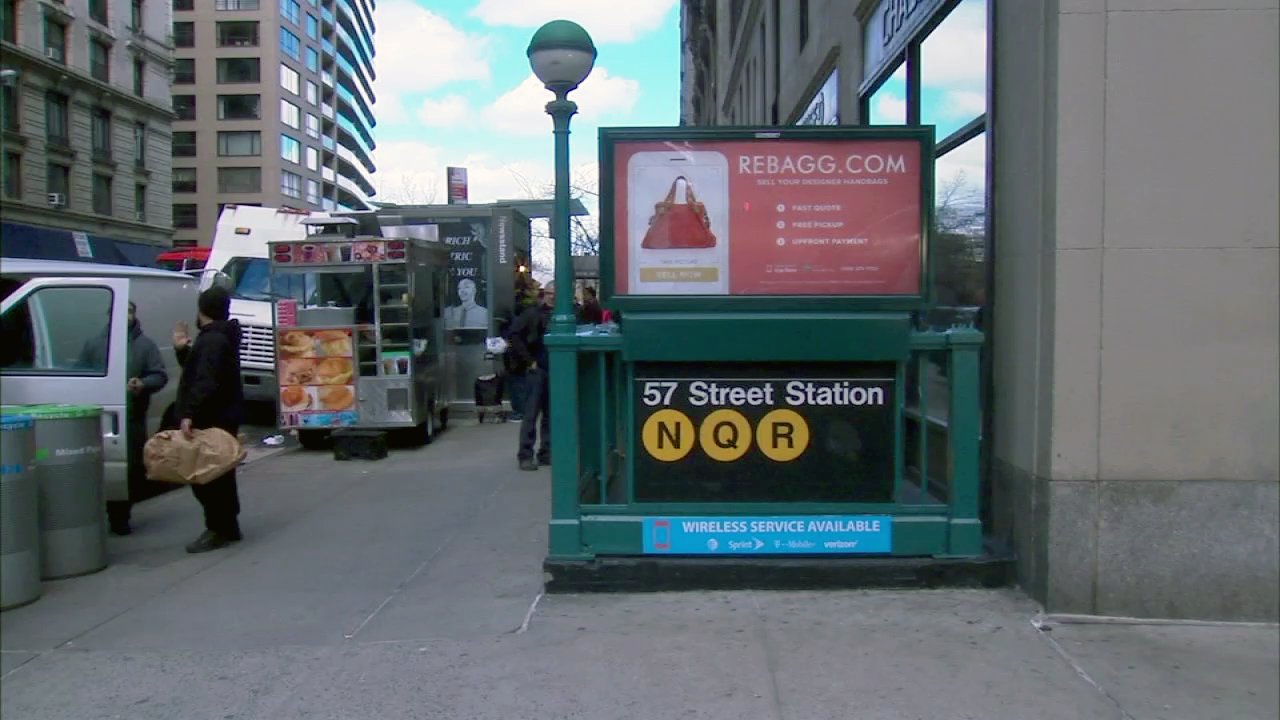 The victim was slashed on the left side of face and the left thumb.
The suspect, described as a man in his 40s, got off the train at the 57 Street/7th Avenue station and then on foot on West 57th Street.
The victim got off at the next stop, 5th Avenue/59th Street, and walked to his work on the Upper East Side.
When he got there, he called police. An ambulance took him to Lenox Hill Hospital, where he was treated for a 1-inch cut to his face and received four stitches. He is in stable condition.
As of Thursday, there have been 609 victims slashed or stabbed so far in 2016, compared to 503 during the same period last year -- a 21-percent increase.
There have been 367 serious subway crimes so far this year, compared to 311 during the same period last year -- an 18-percent increase.
------------------
Here is a list of those covered by Eyewitness News:
* 2/24 |
Tremont, Bronx
|
Man slashed during altercation on bus
* 2/24 |
Mott Haven, Bronx
|
Man slashed during argument inside apartment
* 2/23 |
East New York, Brooklyn
|
18-year-old man slashed in face
* 2/22 |
Harlem, Manhattan
|
Woman slashed in face during robbery
* 2/21 |
Williamsbridge, Bronx
|
NYPD officer slahsed while responding to fight
* 2/21 |
Morrisania, Bronx
|
Man slashed in face while walking on street
* 2/18 |
SoHo, Manhattan
|
Man slashed in face during attempted robbery
* 2/17 |
Greenwich Village, Manhattan
|
Server needs 120 stitches after slashing
* 2/16 |
Washington Heights, Manhattan
|
Cab driver slashed in face during fare dispute
* 2/12 |
Van Nest, Bronx
|
20-year-old woman robbed, slashed while walking home
* 2/7 |
Claremont, Bronx
|
Man slashed during dispute in bodega
* 2/7 |
East Tremont, Bronx
|
Man slashed in cheek after dispute at subway station
* 2/2 |
Williamsburg, Brooklyn
|
18-year-old slashed while walking home
* 2/2 |
Parkchester, Bronx
|
65-year-old businessman slashed during robbery
* 2/2 |
Harlem, Manhattan
|
Man slashed in face during attempted robbery
* 1/31 |
Harlem, Manhattan
|
Man slashed during attempted robbery on C train
* 1/25 |
NoHo, Manhattan
|
71-year-old woman slashed while riding D train
* 1/16 |
East Village, Manhattan
|
30-year-old man slashed while walking down the street
* 1/14 |
East Tremont, Bronx
|
Man gets 100+ stitches after slashing attack
* 1/6 |
Chelsea, Manhattan
|
24-year-old woman slashed while walking to work
* 12/30 |
East Side, Manhattan
|
Employee, customer slashed inside McDonald's
* 12/16 |
Crown Heights, Brooklyn
|
Man slashed in the face coming out of subway station
* 12/16 |
Whitestone, Queens
|
16-year-old exchange student slashed in throat
* 11/5 |
Bedford-Stuyvesant, Brooklyn
|
2 slashed in head aboard C train