NEW YORK (WABC) --
The New York City Patrolmen's Benevolent Association's relationship with Mayor Bill de Blasio and city officials is growing more contentious.
PBA President Patrick Lynch said Saturday that if his officers aren't getting support behind the scenes then they don't want the mayor at the funerals of fallen officers acting like he supports them there.
On Friday, the PBA put up a
form
on its
website
for NYPD officers to sign. It requests that Mayor de Blasio and City Council Speaker Melissa Mark-Viverito stay away from their funeral, in the event that they are killed in the line of duty.
The headline says in bold letters: "DON'T LET THEM INSULT YOUR SACRIFICE!"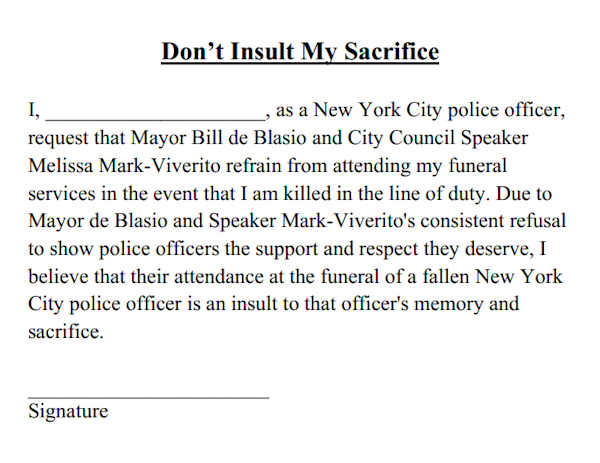 Lynch also said Saturday that because of the protests and lack of support from de Blasio, his officers may start to hesitate on the job and that's when mistakes are made.
The mayor came under fire from the Lynch when he made comments about his son, Dante, and how they had to talk to him about dealing with police because he is bi-racial.
Lynch said the mayor in the news conference after the Garner grand jury decision threw police officers "under the bus" with his comments.
The City Council Speaker Melissa Mark-Viverito is criticized by the PBA for suggesting an expansion of the Civilian Complaint Review Board.
There's no word yet on how many officers have actually downloaded the form.
The Mayor's office released a joint statement from Press Secretary Phil Walzak and Communications Director Eric Koch saying: "This is deeply disappointing. Incendiary rhetoric like this serves only to divide the city, and New Yorkers reject these tactics. The mayor and the speaker both know better than to think this inappropriate stunt represents the views of the majority of police officers and their families."
Brooklyn Borough President Eric Adams released a statement saying: "I am disappointed in the PBA's campaign to keep Mayor de Blasio and Council Speaker Mark-Viverito from the funerals of their members that are killed in the line of duty. The presence of the Mayor and Speaker at these solemn occasions is symbolic of the support of the people of our city. As a 22-year veteran of the New York City Police Department, I understand better than most that PBA President Lynch has a job to protect and defend his membership, but it should not involve action that may appear to indicate that the City is not united on public safety. I am going to reach out personally to him and ask him to end this campaign. It is my sincere hope that we can all focus our energy in a positive manner that honors the good work of our police officers while addressing the real concerns of the communities in which they serve."
A Sienna College poll out Friday morning finds two-thirds of New Yorkers disagree with the Eric Garner grand jury decision.