MIDTOWN, Manhattan (WABC) --
An alleged
drunk driver who police say went the wrong way and hit a bicyclist
while leading police on a wild chase in Midtown was charged Monday.
Authorities say 28-year-old Raheem Addison struck the bicyclist after driving the wrong way on both West 34th Street and 7th Avenue to avoid being pulled over. The victim is currently recovering at Bellevue Hospital after all of the flesh was ripped from one of his arms.
Addison, of Brooklyn, was initially reported to be driving recklessly, almost striking a family inside the West 34th Street garage, when police responded just after 7:30 p.m.
In Manhattan Court on Monday night, prosecutors revealed that Addison partied for hours before the crash. Investigators say he confessed to five hours of drinking, and prosecutors say he was 'thoroughly intoxicated' behind the wheel. His blood-alcohol level was .177.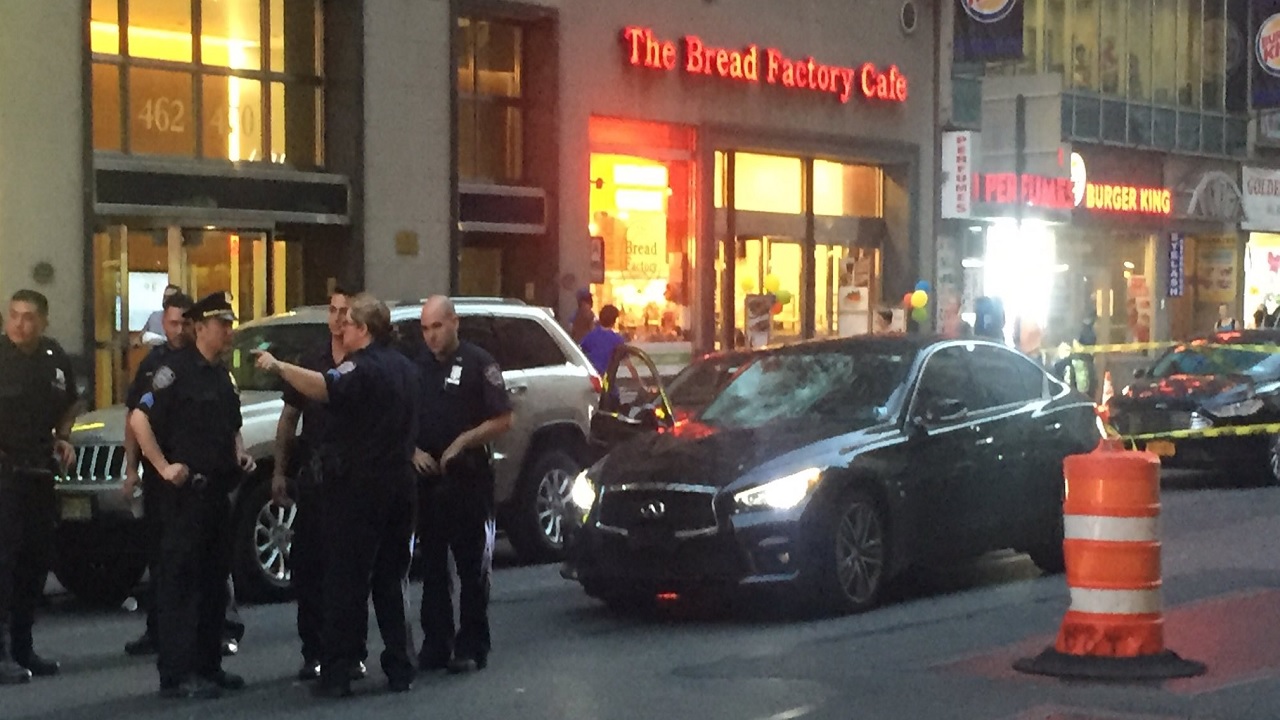 The officers found him parked outside the garage, and they say he quickly drove off.
As he attempted to avoid arrest, he crossed over the double yellow line on West 34th Street and drove into oncoming traffic, according to police. He then turned the wrong way north on 7th Avenue into southbound traffic, striking the 32-year-old bicyclist and forcing other pedestrians to jump out of the way to avoid being hit.
Exclusive video obtained by Eyewitness News shows the out-of-control car after hitting the bicyclist:
Police say Addison headed north for two blocks in the wrong direction before making a U-turn at West 36th Street and driving back south. He reportedly jumped out of the vehicle at West 35th Street and ran, and his description was broadcast over the police radio. He was eventually taken into custody and is charged with aggravated unlicensed operator, vehicular assault, leaving the scene of an accident, no license and DWAI.
Here is video of police officers walking Addison to an awaiting vehicle at the precinct:
His 28-year-old passenger, the owner of the car, was released without charges.
The two had just left a Pride event on the West Side, and Addison's blood alcohol content was said to be .177, more than twice the legal limit.
He reportedly has 25 license suspensions on 12 different dates, and 21 prior arrests. His last arrest was in May 2014, for driving while intoxicated on Riverside Drive and West 145th Street.
The 32-year-old bicyclist went flying across all lanes of traffic on Seventh Avenue. He is in serious but stable condition at Bellevue Hospital, where he has been treated for serious injuries to his back and arms.
Police have recovered numerous surveillance videos documenting the driver's wrong way ride, including one that shows the bicyclist being struck and thrown across the street.