BAYSIDE, N.Y. (WABC) --
Nutty, the stolen Yorkshire terrier, has been returned to his family, according to his owner.
On Oct. 21, Diana Oh's fiance left 4-year-old Nutty in the car for two minutes while he went into Imperial Taste Chinese restaurant on 221st Street and Horace Harding near the Long Island Expressway eastbound entrance in Bayside. Diana's fiance works for the restaurant and went inside to cash out at the end of the night.
When he came back, their 2006 navy blue Honda Accord was gone, and Nutty with it.
In a text Saturday, Oh said someone caught stealing another car, and the suspect had Nutty with him.
"But the cops thought he was the family's dog so they left him until one of the detectives found my fiance's IDs and credit cards" at the scene, said Oh.
The police officer "put his name in the system and it showed he had a missing car, and along with stolen properties, it said missing dog. They took the dog," she said.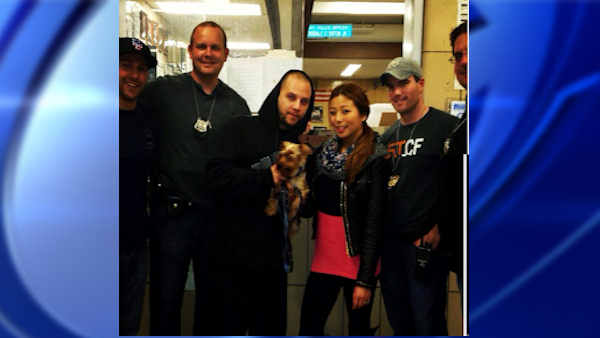 She reports that Nutty is "doing awesome."
In a plea for the return of her dog earlier this week, Oh said, "He's a family member. He's like our son. He's our child."
They had offered a $2,000 reward for the safe return of Nutty. A nearby surveillance camera only caught the front end of the car as the thieves pulled away. And that's about all police have to go on, so Diana and her fiance are plastering pictures of Nutty everywhere
Bring Nutty Home Facebook page