NYACK, New York (WABC) --
Traffic came to a standstill on the Tappan Zee Bridge following Tuesday's crane collapse and caused massive delays in the surrounding area throughout the afternoon.
Drivers trying to get from Rockland County to Westchester County faced huge backups, stretching all the way back to the Palisades Parkway.
Traffic on the bridge was completely shut down for over an hour, until vehicles were allowed to turn around mid-span.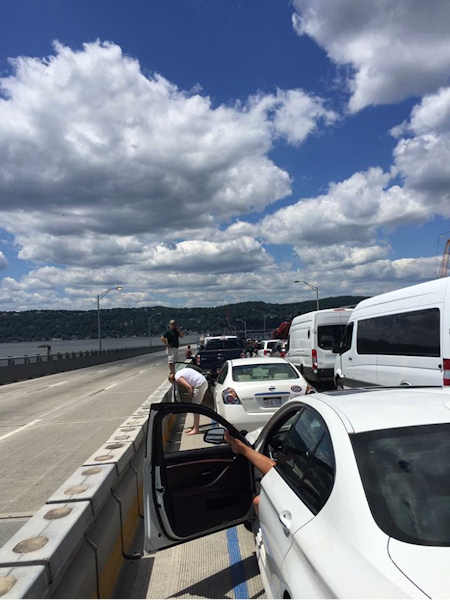 Drivers looked to take alternate routes, including Route 9W, the Palisades Parkway and Routes 303 and 304.
The New York State Thruway Authority announced detours, as traffic was being stopped well before the Tappan Zee Bridge.
UPDATE: TAPPAN ZEE BRIDGE ACCIDENT: Northbound traffic detoured at exit 8 (White Plains) southbound traffic detoured at exit 12 (West Nyack)

— NYSThruwayAuthority (@NYSThruway) July 19, 2016
By Tuesday evening, the backups were starting to ease as three northbound lanes and three southbound lanes on the bridge were reopened, with only one southbound lane remaining closed until further notice.
The reopening of lanes avoided a traffic nightmare, as the Tappan Zee is a vital Hudson River crossing and its closure would have forced drivers to other bridges anywhere from 20 miles to 30 miles away.
But officials said drivers traveling over the Tappan Zee Bridge should plan for extended delays during their morning and evening commutes.

(Some information from the Associated Press.)