NEW YORK --
Thinking about a new travel destination? Find out about the one that combines city splendors and wild vistas - find out what you don't know about visiting South Africa.
Wow in Every Moment
Experience 24 hours a day of wild, adrenaline-fueled, breathtaking, captivating, endless, bustling
Wow in South Africa.
Here are some of the many ways....
Safari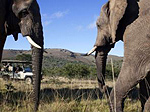 Big Five safaris in South Africa are a must-do for anyone fascinated by wildlife. Big Five refers to buffalo, elephant, lion, leopard and rhino and the term comes from the animals considered most dangerous to hunt. Now the thrill comes from photographing them in their natural habitat.
You want safari? We'll give you safari - from the big five animal photo treks, to safaris more citified: South Africa is a place for big adventures of all sorts.
Pampering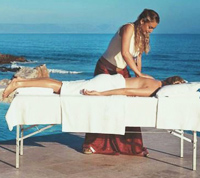 Pampering is another thing South Africa knows how to do well. A
sea-view massage
is just the tip of the iceberg.
Say goodbye to the rat-race, and say hello to peace, calm and tranquility. Options for rest, relaxation and rejuvenation are all around. One popular choice:
Hoogland Hydro
- a true wellness getaways. Up in the Schurveberg Mountains, it's renowned for its hydrotherapy treatments, beauty treatments and food all designed to restore balance.
The Truly Great Outdoors
Picking a best time to visit South Africa is not a task easily accomplished. After all, this is a country famous for its sunshine and relatively warm winters. Perhaps it's wise to
consider what it is you wish to do and see
, then plan in synch with the South African tourism seasons.
Midlands Meander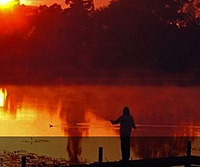 Showcasing world-class hospitality and agricultural industries, the Midlands Meander offers the visitor country flair with stunning surroundings. The area is well-known for its arts and crafts, and a highlight includes watching craftsmen at work amidst magnificent views.
The Midlands extends over a distance of 80 km between Pietermaritzburg and Mooi River
with stunning sites and scenery along the way. The scenic spots and natural surroundings replenish body and soul and the mind will be entertained by the rich and intriguing history going back to the 1800s.
Bustling City Life

There are so many ways to enjoy vibrant, energetic city-life in South Africa. From the 'City of Roses,' to Florida Road in Durban, or the modern, cultural heart of Johannesburg, the options for fun, learning and relaxing are almost endless. Experience a health and wellness getaway. Catch the Cape Town International Jazz festival. Enjoy fine dining and exotic bars.
From culinary cool to majestic views - South Africa's cities are full of happy surprises
.
Community Tourism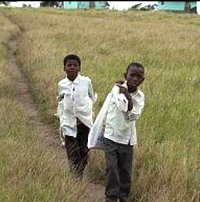 Community tourism projects in South Africa are inspired by Nelson Mandela's legacy of moral fortitude and offer a way for the local and international traveller to acquire a little of his glow and change the southern tip of Africa for the better in some small or large way.
The number of choices for volunteering in South Africa can be bewildering. There is a wide range of local and international organisations doing amazing community tourism projects throughout the country.
Sun Soaked Coastlines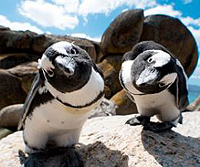 At Boulders Beach, just outside Cape Town, you can get to know our most famous (and arguably our cutest) birds... the African Penguin. You just can't resist these waddling wonder birds, but that's a great thing because they need your attention.
South Africa's penguins are under threat from the loss of habitat, declining fish and their ever-encroaching human neighbours. But not to worry, by making a visit to see these unique locals you are helping them. Every year over 60 000 visitors flock to Simon's Town to photograph and watch the famous Boulders Beach Penguins. This leads to more money to help boost our penguin conservation efforts through South African National Parks (SANParks).
The Cape Whale Route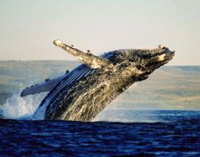 Imagine looking out across the Atlantic Ocean from the boardwalk and you spot a dark figure gliding through the surf in front of you. As more start to appear, you realise that this is your first sighting of a pod of Southern Right whales that have come into the Cape to give birth. Between June and October, this is an everyday spectacle.
The Cape Whale Route is the perfect outdoor family adventure. On this route you'll check into charming towns like Betty's Bay, Kleinmond, Hermanus, Pringle Bay, Stanford and Gansbaai. The route offers some of the best land-based whale watching spots on the planet, but it doesn't stop there.
Savannah to forest, bays perfect for surfing or walking, and rugged coastlines:
South Africa has your favorite kind of adventure.
--*--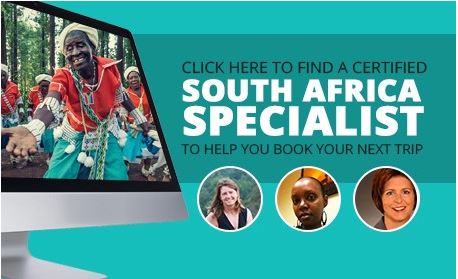 Ms. Bangu Masisi
President: North America, South African Tourism
Bangu Masisi is the President of South African Tourism (SAT), North America where she oversees the organization's efforts to market South Africa as a premiere destination for business and leisure travelers. South African born Masisi arrived in New York in 2015 and brought with her more than 15 years of tourism experience, having served as a South African Tourism Country Manager in other markets for more than 11 years.
Masisi is delighted for the opportunity to currently head up the second largest market for international tourists outside of the African continent as leader of the US office. She strives to build on the established momentum to promote further awareness and change perceptions of South Africa in this high-value market.