BOROUGH PARK, Brooklyn (WABC) --
Fourteen people were injured, one seriously, in an early morning fire at a Brooklyn apartment building.
The three-alarm blaze broke out just before 5 a.m. Monday in a kitchen on the second floor of the four-story building on 49th Street in Borough Park.
It quickly rose up the cockloft to the top floors.
When the fire started burning, fire crews believe it had time to spread before the families inside knew about it, making for frantic moments as they tried to escape.
"Some neighbors got us out, some people called us," resident Martici Weinberg said. "And they rang the bell, 'fire.' We grabbed the kids. We got out."
The smoke was so intense that nine people took the fire escape, climbing to the roof to avoid the flames.
In the second-floor apartment where investigators believe the fire began, a woman trapped by the bars on her windows.
"There was no way she could get out," FDNY Deputy Chief Peter Leicht said. "We had a firefighter on the roof. He heard her call. The firefighter on the roof called our inside team. The inside team was dispatched to go into the rear bedroom."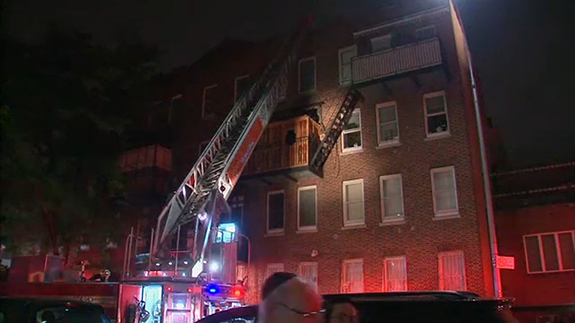 The fire crews walked through flames to get to her, but by the time they reached her, the woman was unconscious.
She was rushed to the hospital with serious injuries.
Nine others who lived in the building were treated for minor injuries.
More than 130 firefighters responded to the fire. Four of them suffered minor injuries.
The cause of the fire is under investigation.