ENGLEWOOD, New Jersey (WABC) -- Authorities are searching for a suspect who sexually assaulted an elderly woman outside of a New Jersey church.
Police say the incident happened on July 28 at the Korean Community Church on Tenafly Road. The victim was followed through the St.Cecilia's Church lot on West Demarest Avenue.
An 83-year-old woman from Dumont was walking through the parking lot at about 5:30 a.m. when she was attacked, police say.
Police said she felt someone following her even before she made it to the church grounds, hoping to get there to safety. But her attacker did not leave.
"When she got to this lot, the individual who is described as an Hispanic male, about 5'6" in height, attacked her, jumped on her and slammed her into a doorway on the church over here," said Detective Captain Timothy Torrell of the Englewood Police Department.
The suspect stopped the attack and calmly walked away when the victim was able to wave down a passing vehicle, according to police.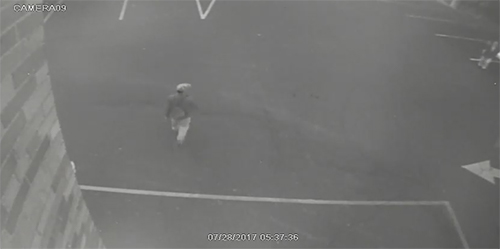 The woman received minor injuries, but did suffer emotional trauma.
Englewood police describe the suspect as possibly in his 30's, wearing some type of backpack, drawstring backpack or shoulder strap backpack, light-colored pants and dark shoes with light-colored soles.
Investigators are recovering video from different sources in the neighborhood.
The incident appears to be a random attack, police say. Both uniformed and plainclothes patrols have been stepped up in the area.
The Bergenfield-Englewood-Teaneck-Hackensack Crime Stoppers group is offering up to a $1,000 cash reward for any information significantly aiding the police investigation.
Citizens can leave a tip on the website at
http://www.bergencrimestoppers.org
or call 844-466-6789. City Detectives can also be contacted directly at 201-568-4875.