Chances are if you're reading this, you have the newly updated ABC7NY app (if not,
click here to get it
and
click here to learn more about it
).
One of the highlights of the app is the ability to pick which kinds of alerts you want to get on your phone or tablet. We've broken down the alerts into topics and hyper-local locations for the entire New York City region.
Choosing the topics that matter most to you means means you'll get notifications about the stories most relevant to your interests and locations, delivered as fast as possible.
Here's a quick video explainer, with more details below:
The notifications are controlled in the ABC7NY app's "Settings" menu under "Manage Notifications." But they're also tied to "My News" -- so if you tap the star next to the segment name to add it to "My News," you'll automatically be subscribed to alerts for a particular topic or location.
Easy, right? Let's start with picking sections for "My News."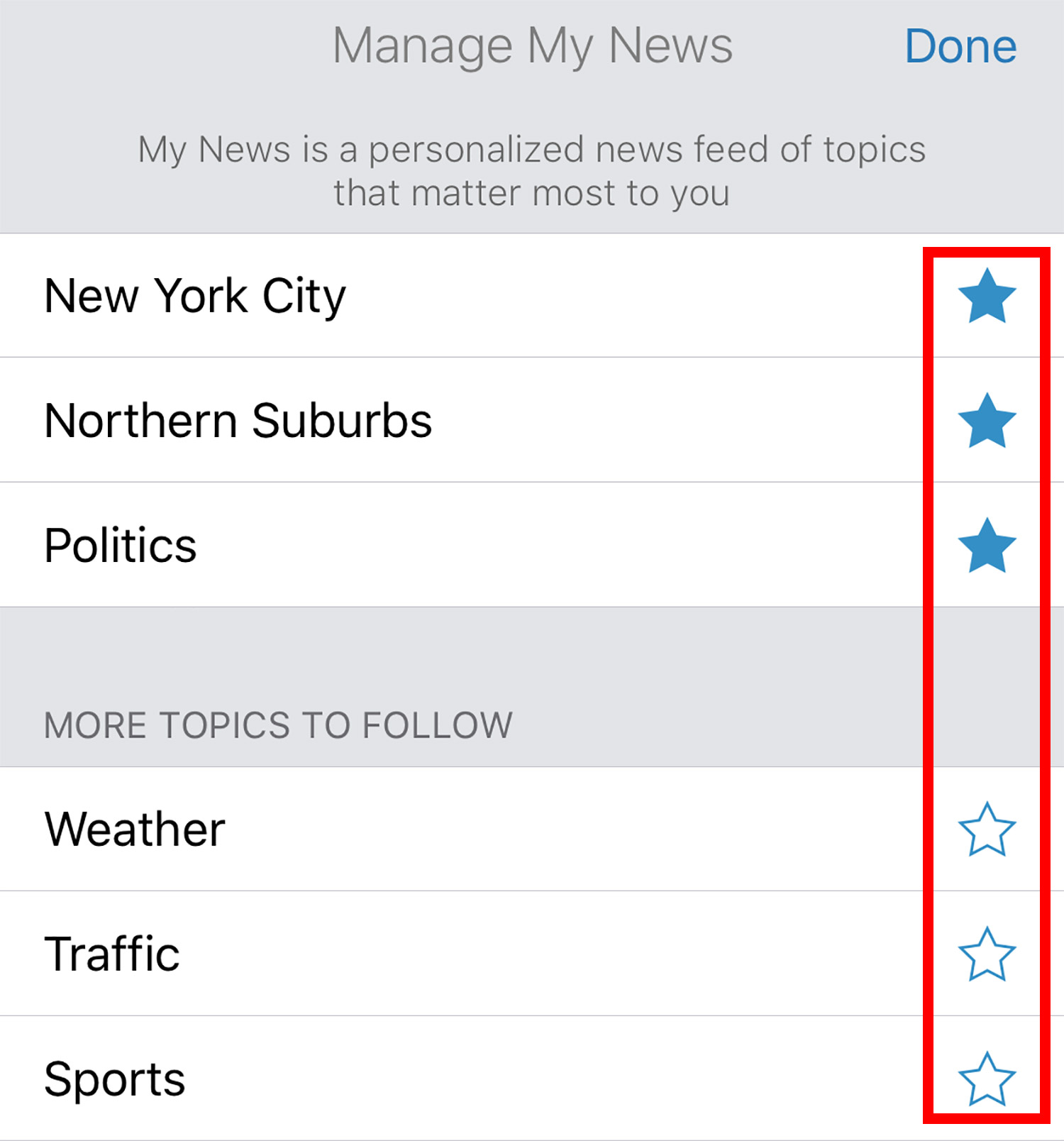 The items at the top with the blue star indicate which segments you've chosen for the "My News" feed. As mentioned above, "starring" topics and locations will add those segments to your personalized notifications, but you can take full control of notifications -- and even choose more hyper-local locations. However, you can't get segmented alerts without first selecting a topic in "My News."
Once you've added your topics and/or locations of choice, navigate to the push notification options under the "Settings" menu (look for the gear in the lower-right corner).

Within this menu, you can take full control your alerts. Any topics or locations you added to "My News" will appear here. For example, if you chose to add "New York City" to your "My News," you'll see options here for each of the boroughs. Long Island, the northern suburbs and New Jersey also have more granular options.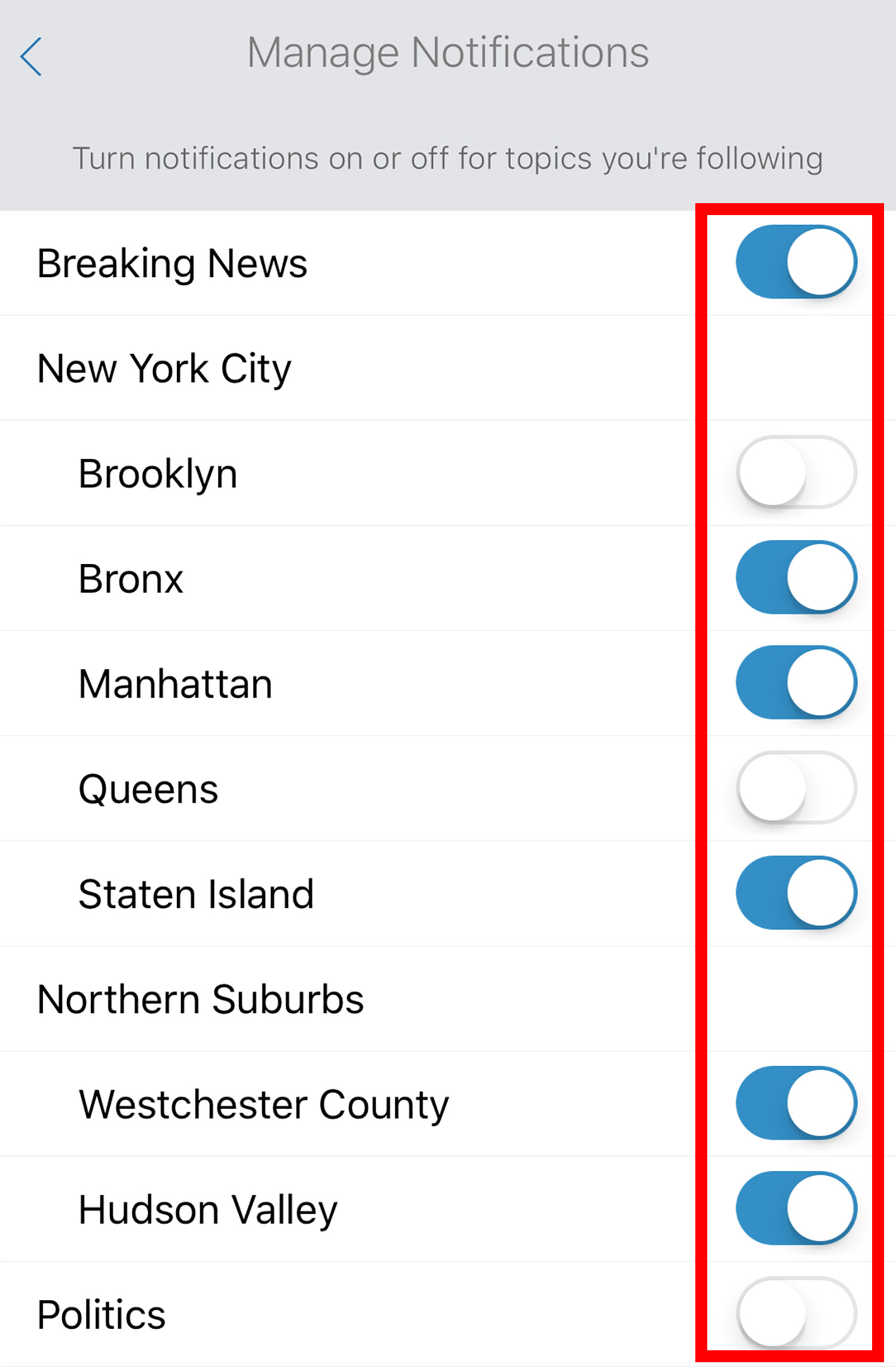 As shown in the example above, you can follow "New York City" news in "My News" but only get alerts for Bronx, Manhattan and Staten Island.
OTHER ALERT OPTIONS
Breaking News is likely the alert you'll want to keep turned on. (Note: If you received alerts on the old ABC7NY app, this is turned on by default for you in the upgraded app).
This option will get you alerts about the biggest, most impactful stories of the day, whether they're happening in our region, across the country or around the world.

If you only turn on the "Breaking News" alert option and don't select any topics, you may notice fewer notifications from the ABC7NY app. We're sending more targeted alerts to make our notifications more relevant to you.
For instance, if there's a massive fire in Manhattan, we may send an initial alert to "Breaking News" -- but alerts for live news conferences and what caused the fire may only be sent to the "Manhattan" alert category.
IMPORTANT: If you're not seeing the same options as the images show, check to make sure you've done these two things:
1. Enabled push alerts for the ABC7NY app in your device settings
2. Selected at least one option for "My News" (though you would still see "Breaking News" as an option)
Here is a complete breakdown of your push alert options and what to expect for each:
1.
Breaking News
-
Biggest, most impactful stories of the day -- local and afar
2.
New York City
-
News from NYC's five boroughs
- Brooklyn
- Bronx
- Manhattan
- Queens
- Staten Island
3.
Long Island
-
News from the two counties of Long Island
- Nassau County
- Suffolk County
4.
Northern Suburbs
-
News from the counties north of NYC, including Albany, Dutchess, Orange, Putnam, Rockland, Sullivan, Ulster and Westchester
- Westchester County
- Hudson Valley
5.
New Jersey
-
News from various segments of New Jersey, including north/central/south, as well as some of the largest cities
- Newark
- Hoboken
- Jersey City
- North Jersey -
Bergen, Essex, Hudson, Morris, Passaic, Sussex, Union, Warren counties
- Central Jersey -
Hunterdon, Mercer, Middlesex, Monmouth, Ocean Somerset counties
- South Jersey -
Atlantic, Burlington, Camden, Cape May, Cumberland, Gloucester, Salem counties
6.
Connecticut
-
News from southern Connecticut, especially Fairfield County
TOPIC-BASED ALERTS
7.
Weather
-
More detailed information about weather events
8.
Traffic
-
Major road closures and crashes, along with mass transit and alerts
9.
Politics
-
News about laws and lawmakers, both local and national
10.
Sports
-
Major news happening in sports, local and afar
11.
Entertainment
-
News about celebrities, movies and TV shows
12.
U.S. & World
-
Major news happening outside of the NYC metro area
13.
Life, Food & Travel
-
Lifestyle alerts, including new restaurants and special features
14.
Money, Consumer & Technology
-
Important consumer and finance alerts, as well as tech news
----------
*
More local news
*
Send us a news tip
*
Download the abc7NY app for breaking news alerts