MIDTOWN, Manhattan (WABC) -- Police say an SUV jumped a curb after an accident in Manhattan Thursday, hitting two pedestrians.
It happened at 12:30 p.m. in front of 400 West 37th Street.
According to the NYPD, the driver of a Chevy Tahoe and a livery cab both attempted to make a right turn at the same time, from Ninth Avenue to West 37th Street.
"I'm going straight, going to Lincoln Tunnel, to Newark Airport," said TLC driver Pardeep Singh.
He was heading south on Ninth Avenue when he says the Chevy Tahoe suddenly made a right turn into him.
"When I saw them I honked the horn and he hit me hard, and then he speeding and hit the van also," said Singh. "Then he keep going and hit the wall."
Instead of stopping, the Tahoe slammed into the back of a van, careened off it, and according to police struck a man and a woman, both in their 40's.
The SUV then plowed through two heavy metal tree planters and ended up wedged between a building and a tree.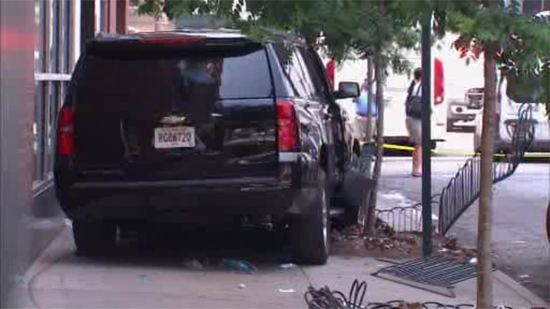 "There was a lady lying down on the floor and she was hit," said eyewitness Mohan Ahluwalia. "A man was hit. The ambulance came and took them to the hospital."
The woman sustained a leg and head injury. The man suffered a leg injury.
They were both taken to Bellevue Hospital in stable condition.
Eight passengers in the SUV and two people in the livery car - a driver and a passenger - were evaluated after being involved in the crash but not transported.
The driver of the Chevy Tahoe is being interviewed by police. So far there have been no arrests.