BRONX, New York (WABC) -- A man who lived in the Bronx has been arrested on charges he tried to support ISIS and terrorism.
FBI agents picked up 22-year-old Sajmir Alimehmeti at 5:30 a.m. at his home Tuesday without incident. He also went by the name "Abdul Qawii."
During their investigation, a federal undercover agent met with Alimehmeti in his Bronx apartment, where Alimehmeti played ISIS videos -- including one of ISIS fighters decapitating prisoners. He said the videos "keep him motivated while he is exercising."
Alimehmeti allegedly had jihad and martrydom files on his computer.
The undercover agent told Alimehmeti a second man was already in Syria fighting, and showed him pictures. Alimehmeti was excited and jealous, asked to "hook (him) up" with his "connections."
The undercover then introduced Alimehmeti to a third man. Alimehmenti stated he had $2,500 saved for his own travel but still needed a passport and "needed to see someone" to obtain a passport in a different name because he was already "in the system." He said he and his brother "had our own plan" to travel from Albania to Raqqah, Syria, but that his brother had been arrested in Albania in 2015.
When the third man took a call from the passport "facilitator," Alimehmeti asked whether he could "tell the (document facilitator) about me, too."
He said in an excited voice, "I'm ready to f---ing go with you man. ...you know I would... I'm done with this place. There are kuffar everywhere."
The agent told prosecutors this indicated that Alimehmeti wanted to travel oversees and join ISIS.
Alimehmeti wrote down his contact information, so the third man could provide it to the "document facilitator."
They then allegedly discussed downloading cellphone "apps" so the third man could engage in encrypted communications overseas. "Don't say things straight up," he advised, even when using the encrypted communications.
He's also accused of buying the undercover agent weapons -- mostly knives -- and supplies.
ABOUT THE PASSPORT
Prosecutors said Alimehmeti tried twice to get into the UK in 2014, but was denied both times, at Manchester and Heathrow airports. The first time, authorities found camouflage and nunchucks in his luggage. The second time, they found images of ISIS flags and IED attacks on his laptop. The UK shipped him back both times and notified the FBI.
Court documents include this photo of Alimehmeti with an ISIS flag in the background, which was allegedly found on his computer: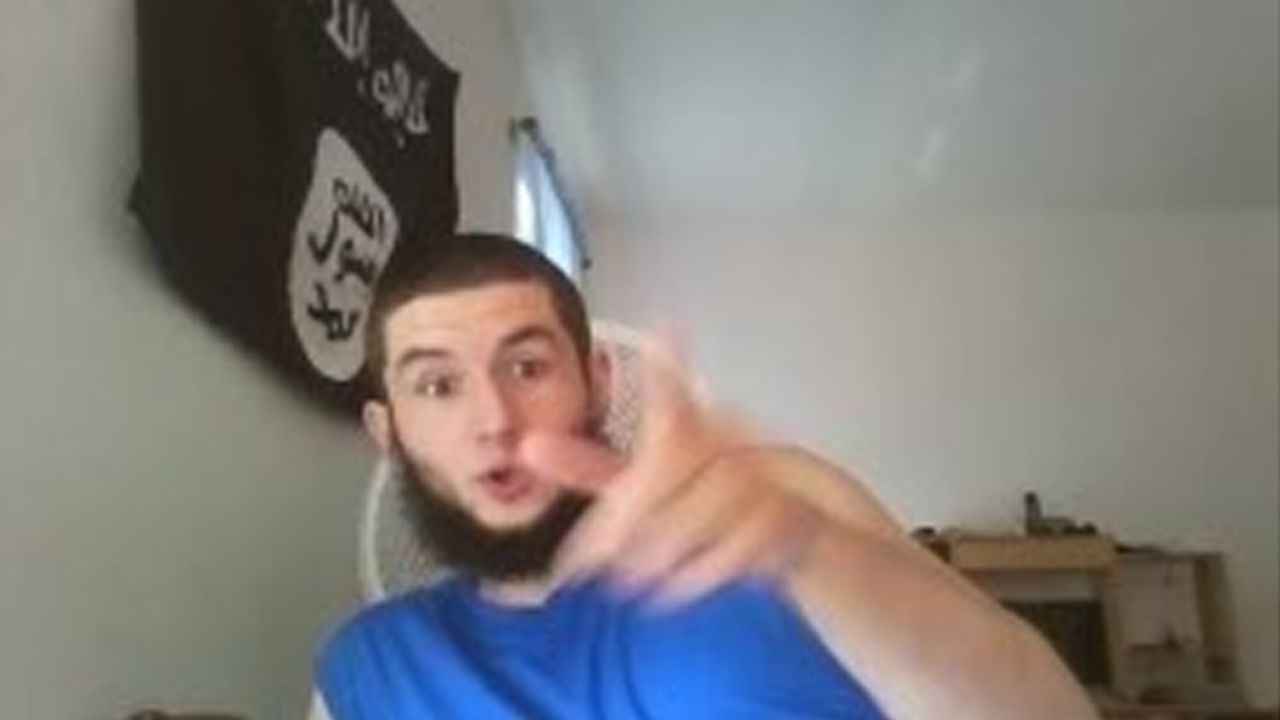 Here's video of FBI agents outside Alimehmeti's home Tuesday:
Alimehmeti is charged with attempting to provide material support to the Islamic State of Iraq and the Levant (ISIL) and for making a false statement in an application for a United States passport.
He'll appear in federal court in Lower Manhattan Tuesday morning.
Keep checking abc7NY for the latest on this developing story.