BROWNSVILLE, Brooklyn (WABC) -- A vigil was held Monday to remember a teenager fatally shot on a Brooklyn basketball court, and to protest the gun violence that took his life.
Police said 16-year-old Oluwadurotimi Oyebola, or Timi, was playing basketball in Brownsville with friends after school September 21 when he was suddenly
shot in the head and killed.
Two shots were fired from more than 100 feet away.
Friends and family marched from his high school Monday to remember a teen who had a bright future before being killed on the playground.
"If our kids are not safe in their own playgrounds where they come out to play basketball, it's just sad that a young man dies like this and it's senseless," said community activist Michael Thomas. "So we're here to support the kids and we're here to send a message that if you feel this, imagine the pain that his family feels."
Police released a photo of the teen suspected of firing the shots, 14-year-old Aaron Nathaniel.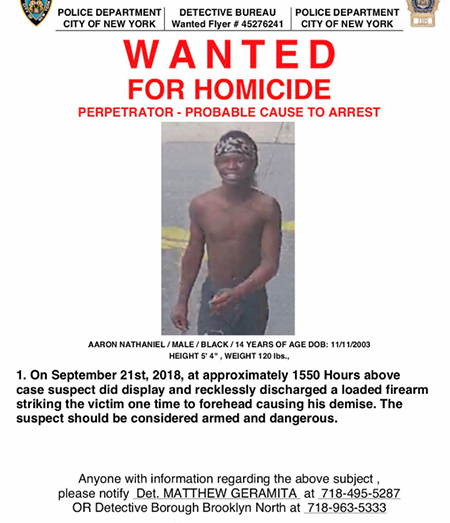 Police said the suspect may have targeted another person playing basketball, not Oyebola.
----------
*
More Brooklyn news
*
Send us a news tip
*
Download the abc7NY app for breaking news alerts
*
Follow us on YouTube