CYPRESS HILLS, Brooklyn (WABC) -- Police are searching for the driver involved in a hit and run crash that left two men, both fathers, dead in Brooklyn.
"We are in lots of pain, the saddest we can be," said Frankie Tercios, the victim's son.
Young Frankie showed tremendous composure and strength hours after learning his father had been killed.
"He's a very good person, give you shirt off his back, always liked to have fun with everybody," said Javier, a friend.
Fifty-six-year-old Israel Turcios (L), father of three, and his friend, 41-year-old Delmer Maldenado (R), father of a 12-year-old boy, were getting a midnight meal together on the corner of Fulton and Chestnut Streets in Brooklyn when a car took everything away.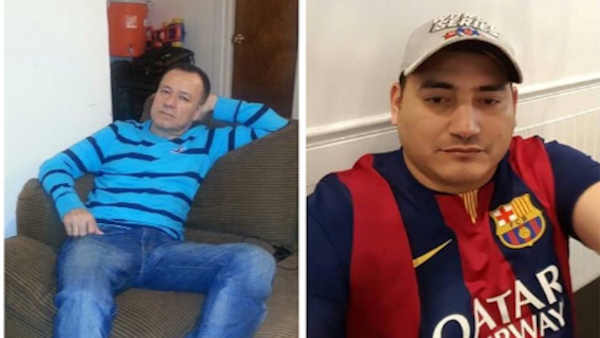 Police report the driver of an Acura TL sedan was speeding when he fatally hit the two men.
Authorities say he just kept going, striking another two cars before ditching his vehicle and fleeing on foot.
"It's a shot for me. That's why I came here to see," said Ruben Casula, Turcios' friend.
"Our community is from Honduras, very sad over what happened. We don't want anything to happen to anyone," said Ramon Hernandez, Turcios' friend.

"He should really turn himself in, you know you did something and you need to pay or whatever," Frankie said. "I love my dad and he is no longer with us."
Anyone with information on the accident is asked to call NYPD Crimestoppers at 1-800-577-TIPS.