NEW YORK (WABC) --
The U.S. Geological Survey is reporting that there has been an earthquake along the East Coast, which was felt by some people in the New York City area.
The USGS said a magnitude 4.1 earthquake was reported 10 km east-northeast of Dover, Delaware, at 4:47 p.m. ET.
Here's a map from the USGS showing the epicenter of the quake and how far away it was felt: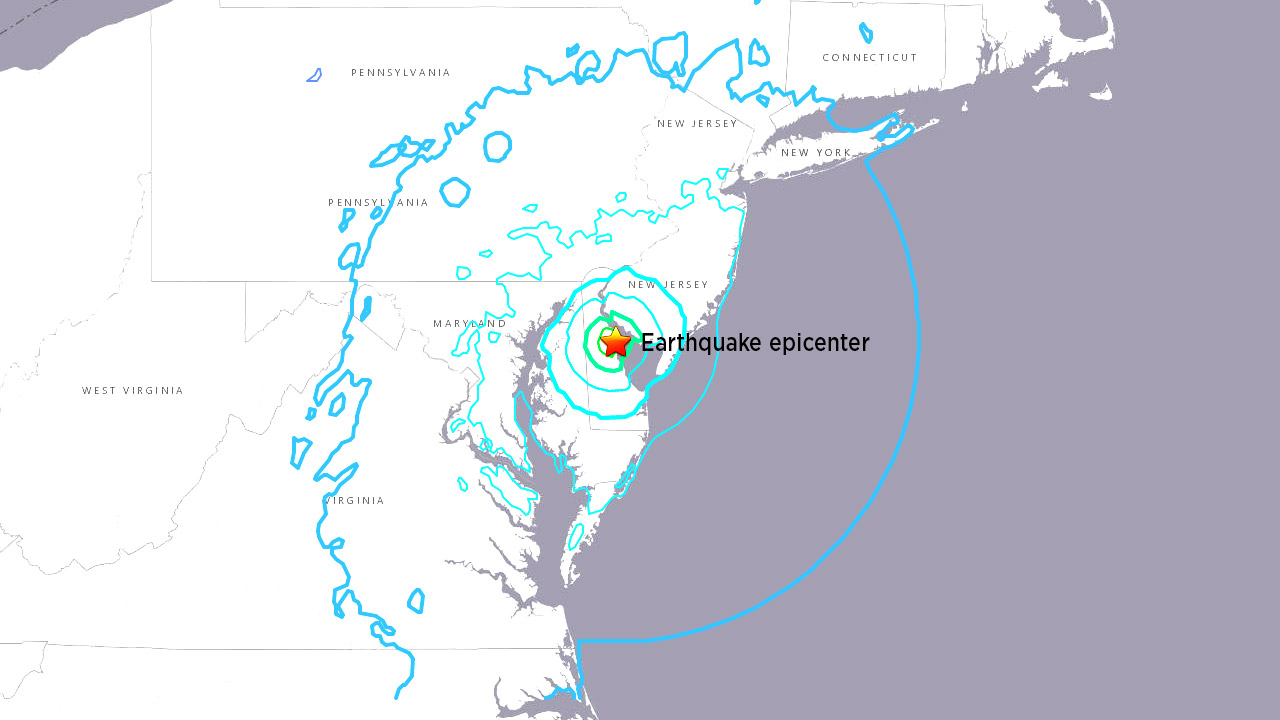 There were multiple reports of people feeling the ground shake in NYC:
Uh, presumably that wasn't an earthquake since this is NYC, but something just shook the apartment for about two seconds. Weird.

— Bo Bolander (@BBolander) November 30, 2017
The quake was also felt in New Jersey and Long Island:
Working at home in Hewlett, Long Island and my whole desk started shaking and things were swinging. I clocked the time in at 4:48 PM

— Marie Polifrone (@cvette66) November 30, 2017
A priest said he felt it in a rectory in Hoboken:
Felt the earthquake in Our Lady of Grace Rectory, Hoboken, across from Church Square Park. Fr. Bruce on the 3rd floor felt the building shake; I hear a boom.

— Alexander M. Santora (@padrehoboken) November 30, 2017
New York City officials said that while some people felt the quake in the city, there have been no reports of damage or injuries.
Many in the East Village thought it might be a subway train, but usually you wouldn't feel your apartment shake up on the fourth floor.
"It's kind of a weird feeling, your building move, the ground move," said Kevin Barnett, an East Village resident. "Something that you're not used to so it's definitely an odd feeling."
He says his apartment rattled for two seconds.
"I could definitely feel the structure of the building move," Barnett said. He wasn't the only one.
In Riverside, a chandelier was swaying and in Hackensack a woman's work cubicle was rocking back and forth.
A home security camera in Belleville, New Jersey, captured it as well.
"We felt the whole house shake, it was very scary. My son said, 'Mom what happened?' And I said, 'I believe we had an earthquake.' It was very scary. Everything was shaking. It was unbelievable," said Valerie Lasky, a Belleville resident.
Experts say it's very rare.
"Well in this area it's different than California," said Won Young Kim, Columbia University Professor.
Professor Kim says in California large faults are moving constantly. Here they move just a few millimeters a year, but eventually it adds up.
"Accumulating over the years, a small fault can break," Kim said.
There's no word yet of any damage or injuries closer to the earthquake's epicenter in Delaware.
The USGS initially upgraded the quake to a magnitude 5.1, but moved it back down to a 4.4. It was then downgraded to a 4.1.
Did you feel it? Tell us in comment section below.
----------
*
More local news
*
Send us a news tip
*
Download the abc7NY app for breaking news alerts