LONG ISLAND CITY, Queens (WABC) -- A 5-alarm fire destroyed a dry cleaner in Queens on Sunday.
Flames broke out at DK Pro Dry Cleaners 38-68 13th Street in Long Island City just before 4 p.m. and heavy smoke filled the air all throughout the area. The cleaners is flanked by two other businesses, including a furniture store. Fortunately, the fire did not spread.
Fire officials say wind was not a factor, but instead it was hard to fight because it was an interior fire, and flames went into the ceilings.
The fire was placed under control in just over five hours, but there are still pockets of flames that need to be put out.
"Everything goes out to the New York Fire Department, They had hundreds of guys out here, they did an excellent job," says Billy Moose.
Moose works for neighborhood church Center of Hope's non-profit Urban Upbound. He took Eyewitness News inside the church to see the devastation from above. Moose says this is a big loss to the community, but they remain hopeful.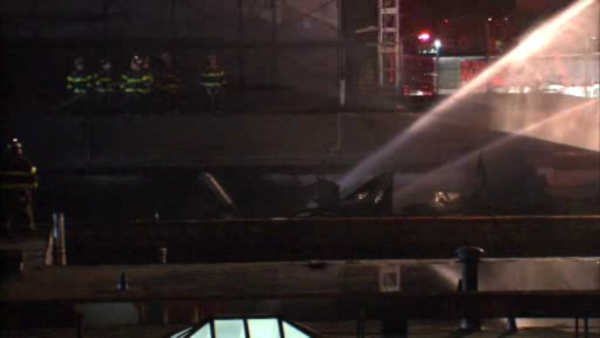 "We will rebuild, and hopefully help him out, and get back on track with what's needed to get him up and running again," Moose adds.
Two firefighters suffered minor injuries.