HICKSVILLE, Nassau County (WABC) -- A fire burned through a well-known bakery in Hicksville overnight Monday.
The flames broke out around 11:25 p.m. Sunday at Francesco's Bakery on South Broadway and took about an hour to bring under control. It smoldered into the morning hours.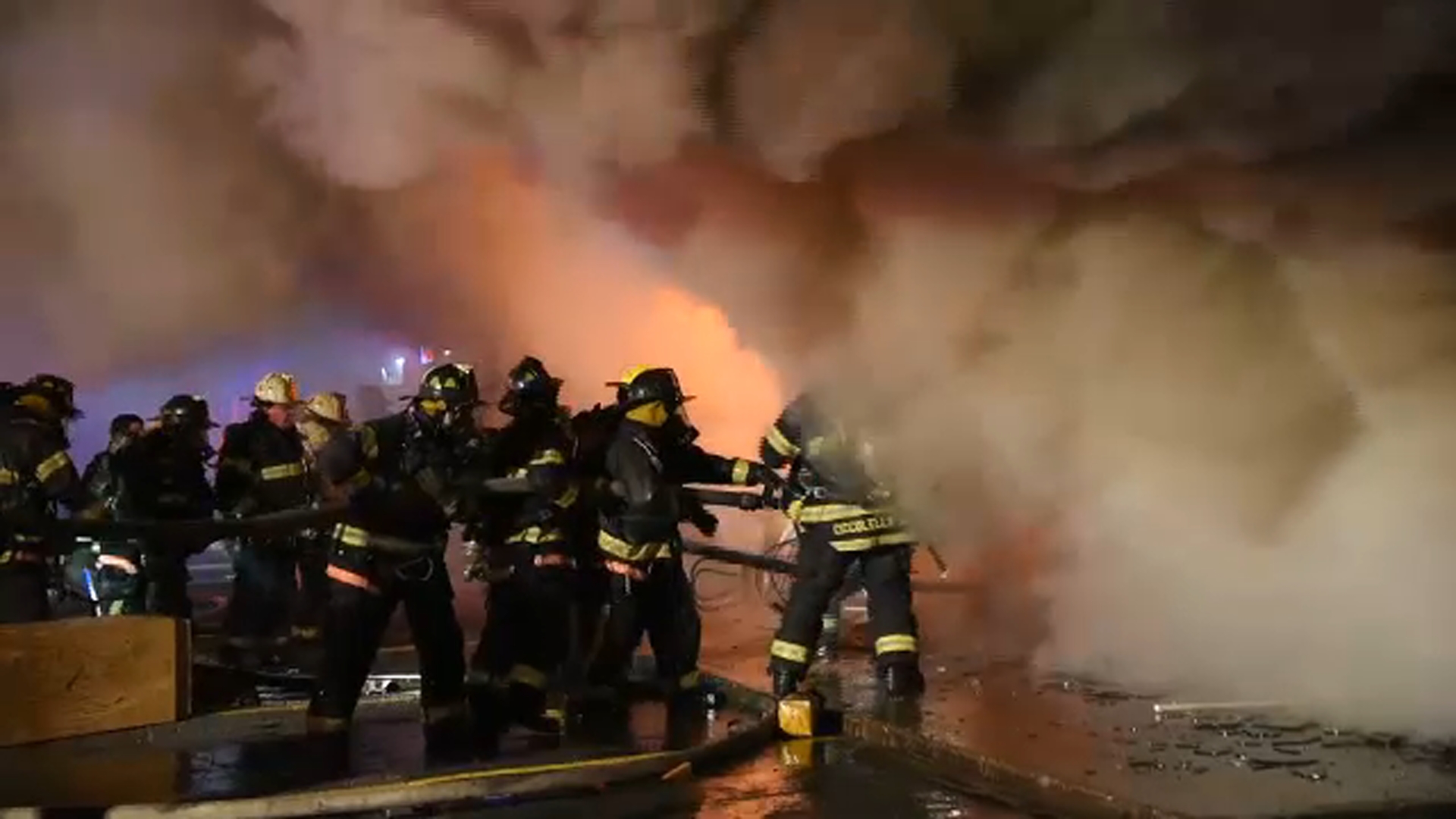 Nine fire departments responded to the fire, and 100 firefighters were battling it at the height of the blaze.
The fire was burning through the roof upon arrival and was contained to the bakery. No employees were inside at the time.
Owner Francesco Guerrierri said he got calls about the fire but didn't want to believe it, until someone sent him a picture.
His son, Antonio Guerrierri, said he took his first steps inside the bakery.
"They started this place when we only had the store all the way to the right," he said. "After 33 years, we shifted over three stores. And to see it all go down in less than three hours, it's unspeakable. It's just terrible. It's a lot of good memories, but we will rebuild like we said, and we're going to come back stronger than ever."
The bakery has 95 cakes to make for weddings this weekend, along with orders for other specialty cakes like First Communion cakes. All of the operations will be happening out of the second location in North Massapequa.
"It's a little chaotic right now," North Massapequa store manager Angie Collazo said. "It's a much smaller space here than it is at the Hicksville location, but we will make it work. The customers will get their wedding cakes, their specialty cakes, all of that. We are still fulfilling orders."
The phones have been ringing off the hook at the bakery -- mostly with panicked brides -- but Collazo is reassuring them they will have their cakes for the weekend.
Guerrieri said other bakery owners have been pitching in, loaning him flour and sugar. He said some of the catering halls where he provides cakes have offered up their kitchens as temporary workspaces.
"It makes me feel good that everyone reached out to me, and they're willing to help," Francesco Guerrieri said.
The cause of the fire is not yet known, but the damage is estimated to be about $4 million
If you need to contact the bakery about an order, please email info@francescosbakery.com or call the North Massapequa location with any questions at (516) 541-1166.
----------
*
More Long Island news
*
Send us a news tip
*
Download the abc7NY app for breaking news alerts
*
Follow us on YouTube