PROSPECT PARK, Brooklyn (WABC) -- Young Gideon is on to something - a tour of the Brooklyn Botanic Garden, and then lunch inside Yellow Magnolia Café. The restaurant opened just in time for flower season, and there is a canteen option with outdoor seating. The café inside the renovated Palm House offers another level of tranquility.
Chef Rob Newton hopes this new venue lives up to the setting that attracts so many people.
"I hope they feel like this beautiful garden that has been here 100 years has a great restaurant it deserves," Chef Newton says.
Newton's Chef de Cuisine Morgan Jarrett is vegetable-focused, and serves a beautiful crudité and lush salads.
"In designing the menu of Yellow Magnolia, I wanted to reflect the beauty of the whole garden," Jarrett says.
You will also find fried chicken and fish tacos, which are already a big hit.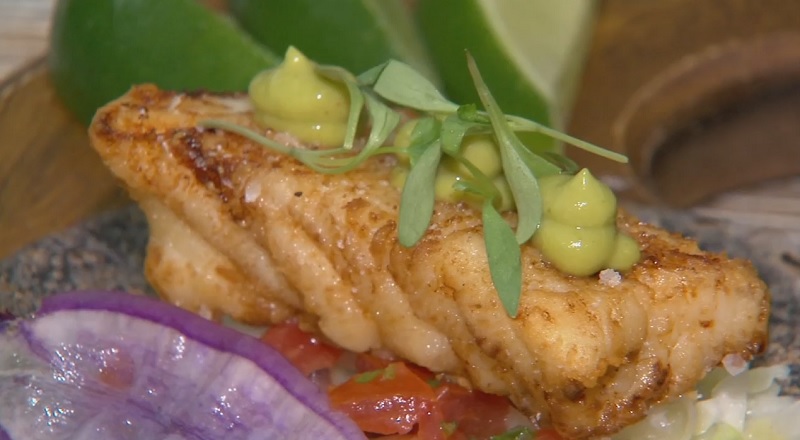 Fresh masa tortillas are made to order, and the fish that Chef Jarrett uses is hake. It is first coated in buttermilk, and dredged in rice flour. The hake is quickly deep fried, and layered onto that tortilla. The fish is served with ninja radishes and a fresh avocado crema and micro cilantro, so it is a bright plate. The bright plate reflects the bright blooms outside.
RECIPE:
Yellow Magnolia Cafe Tacos: Ingredients:
1 small hake filet
1 cup rice flour
1 cup butter milk
Salt
3 tbls micro greens
1 purple ninja radish (can use any radish if necessary-finely shave)
1 cup shredded cabbage
1 cup salsa (use your favorite or make your own)
2 tbsp Avocado crema (see recipe below)
2 cups cooking oil
3 tortillas (make your own or buy)
Directions:
Heat oil in deep frying pan or deep fryer over medium high heat
Cut filet into 3 equal size pieces
Pour buttermilk over the fish, make sure each piece is well covered
Then in bowl, dredge each piece in rice flour
Deep fry fish in the hot oil for 1 minute
Layer each taco with cabbage, salsa, fish, radish, crema and micro greens
Directions for Svocado Crema:
In blender, combine 1 avocado (the inside only, and remove pit), with cup of sour cream, juice from lime and a punch of salt. Puree until creamy, and garnish with sprig of cilantro.
Serves 1