JAMAICA, Queens (WABC) -- Two terminals at New York's John F. Kennedy International Airport are resuming normal operations Monday morning after reports of shots fired prompted evacuations and grounded and diverted flights.
An all-clear was given Sunday night after Port Authority Police and the NYPD responded to reports of gunfire at the airport.
At about 9:30 p.m. Port Authority officers received a call saying there were shots fired at American Airlines' Terminal 8 departures.
Police confirmed there were
no shots fired
, but it is still not clear what led to the chaos.
As a safety precaution, Terminals 1 and 8 were closed as officers swept the area. The airport was also under a security ground stop.
Here's a look at our breaking coverage from 11 p.m. Sunday:
Police searched and cleared all terminals just before midnight, but did not find anything. All affected terminals resumed operations.
People who were stranded aboard their flights were able to leave the airport early Monday morning to head home or to hotels in Manhattan.
During the incident, a KLM flight on the tarmac deployed chutes and evacuated passengers.
Authorities are still not sure what sparked the scare.
Photos posted on social media show crowds gathering as the terminal was evacuated.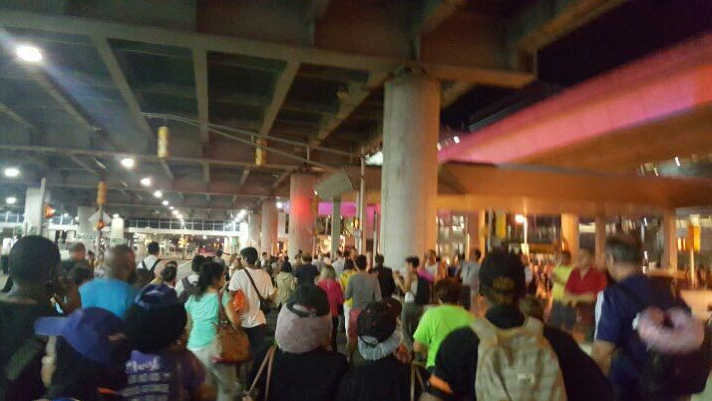 Credit: @jewishbreakingnews/Twitter
Police and crowds outside Terminal 8: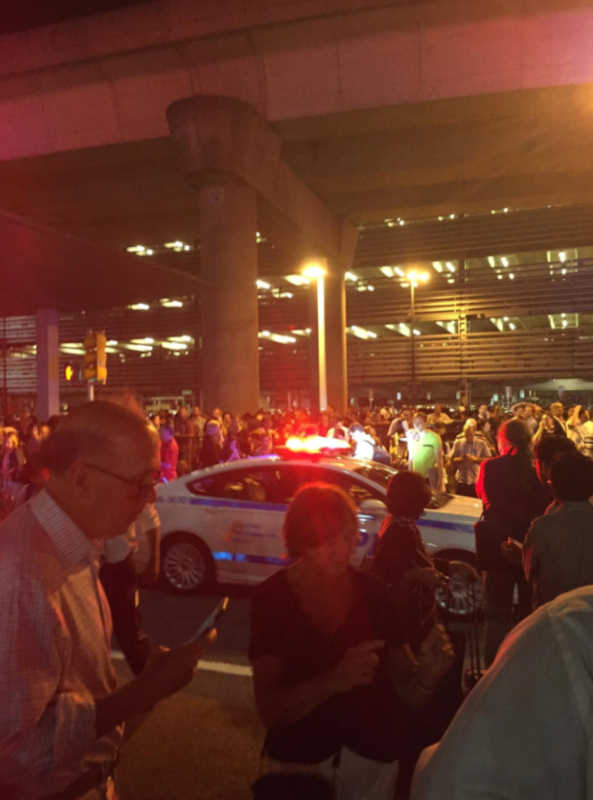 Credit: Katharina Finger
Photos also show people running out onto the tarmac:Darla Miles has more from passengers:
American Airlines released a statement Sunday night saying,
"We are aware of an ongoing security situation at the JFK. There are no known injuries to our employees or passengers at this time and our ticket counter is currently closed. We will provide additional details as they become available."
"At this time, no firearm, rounds or shell casings or other evidence of shots fired has been found," said Joe Pentangelo, a spokesman for the Port Authority of New York and New Jersey Police Department.
No arrests have been made, and no one was injured.
(The Associated Press contributed to this report.)