MOUNT HOPE, Bronx (WABC) -- Police are searching for two suspects who stabbed and robbed a man in what appears to be a random and brazen broad-daylight attack in the Bronx, and they are hoping surveillance video of the harrowing incident will lead to arrests.
It happened around 11:30 a.m. on Sunday, March 18, in front of 304 Echo Place.
Authorities say 55-year-old Rafael Fuentes was walking when two unknown individuals brandishing knives approached him from behind. They pushed him to the ground and began going through his pockets.
"When I was on the floor, they said, 'Where is the money?'" he said. "'The money or your life.'"
During the confrontation, the suspects stabbed and slashed the victim, causing lacerations to his face and right hand.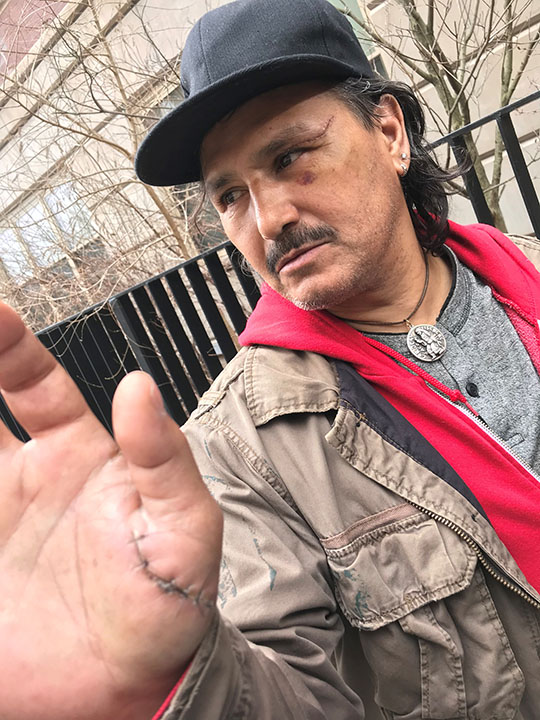 "You're holding the knife in your right hand right, and you come," he said. "You go either, so I grabbed it. That's on both of them, push me, I fell there."
They stole $60 in cash before fleeing eastbound on Echo Place into Echo Park.
"They took the money, and they ran," Fuentes said. "I bled so much. I never seen so much blood on me."
EMS responded to the scene and transported the victim to St. Barnabas Hospital, where he was treated and released. He received a dozen stitches on his left eye lid and on his hand from grabbing the knife.
"I was in the floor, that's when I sliced me," he said. "That's when I try to strip knife away for me, and the other guy with the other hand was poking me."
The first suspect is described as a black male last seen wearing a black hooded jacket, black track pants with a white stripe down the side and red sneakers.
The second suspect is a described as a black male last seen wearing a black jacket, black hooded sweatshirt, black pants and black sneakers.
Anyone with information in regards to this robbery is asked to call the NYPD's Crime Stoppers Hotline at 1-800-577-TIPS (8477) or for Spanish, 1-888-57-PISTA (74782).
----------
*
More Bronx news
*
Send us a news tip
*
Download the abc7NY app for breaking news alerts