SHIRLEY, Long Island (WABC) -- A body has been discovered in the search for a teenager who
went missing
off of Smith Point Beach in Shirley Sunday, the Coast Guard said.
The family of Jevoney White came to the beach early Monday morning hoping for good news, but around 6:40 a.m., a ranger spotted a body in the water just off the shoreline matching his description.
The 19-year-old from Springfield Gardens went in the water Sunday evening with his friends, while lifeguards were not on duty. The lifeguards are on patrol from 10 a.m. to 5:30 p.m., and White went into the water less than an hour after they had left.
"We had moderate to heavy rip currents yesterday," chief lifeguard Robert Kolar said. "People have to swim in front of lifeguards and in protected areas, because even a good swimmer can be pulled out and have trouble in rip currents."
White's friends say he was not a good swimmer, so they became worried when he went into the water and seconds later was nowhere to be seen.
"I spoke to a police officer who took off her shoes to go after him," said a witness who didn't want to be identified. "Whoever he was in the water with cried out for help, and people were trying to go after him."
White did not go too far into the water when the strong current carried him off. An eyewitness, John Rankin, said he spotted White struggling in the water and ran to tell police, but he lost sight of the teen before help could arrive.
"He was alone and all the way by himself," Rankin said. "Two girls that he was with, they were having issues trying to get out of the water as well, but they made it out because they weren't in as deep as he was."
Signs were posted on the beach warning of dangerous rip currents.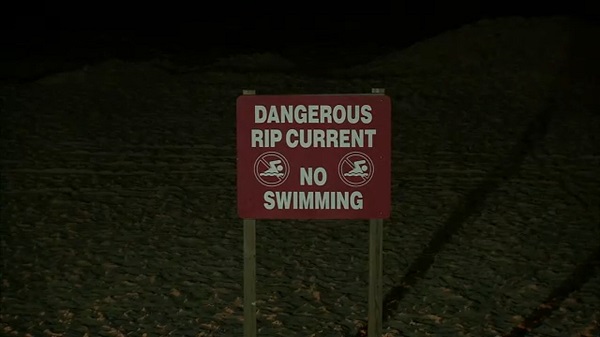 White's body was located by a Suffolk County Park Ranger on the east side of the Old Inlet Breach at Fire Island National Seashore.