FORT GREENE, Brooklyn (WABC) -- It's being called the largest gun bust in Brooklyn history. Two dozen people, including gang members, have been indicted for trafficking guns purchased in Virginia to be sold in our area.
A total of 217 firearms, including 41 assault weapons, are now off the streets after a widespread undercover operation.
It all began with one person raising concerns.
The weapons include handguns, the street weapon of choice, the popular assault-type weapons, AK47's and AR-15's, and a deadly machine gun, among 217 illegally transported guns brought up the so-called "Iron Pipeline" with the intent of being sold on the streets of Brooklyn.
"We have prevented misery and death," said Acting Brooklyn District Attorney Eric Gonzalez.
By bringing down, investigators claim, gang members with names like "Havoc", "Madcat" and "Wavy Boy", the alleged leaders of this conspiracy.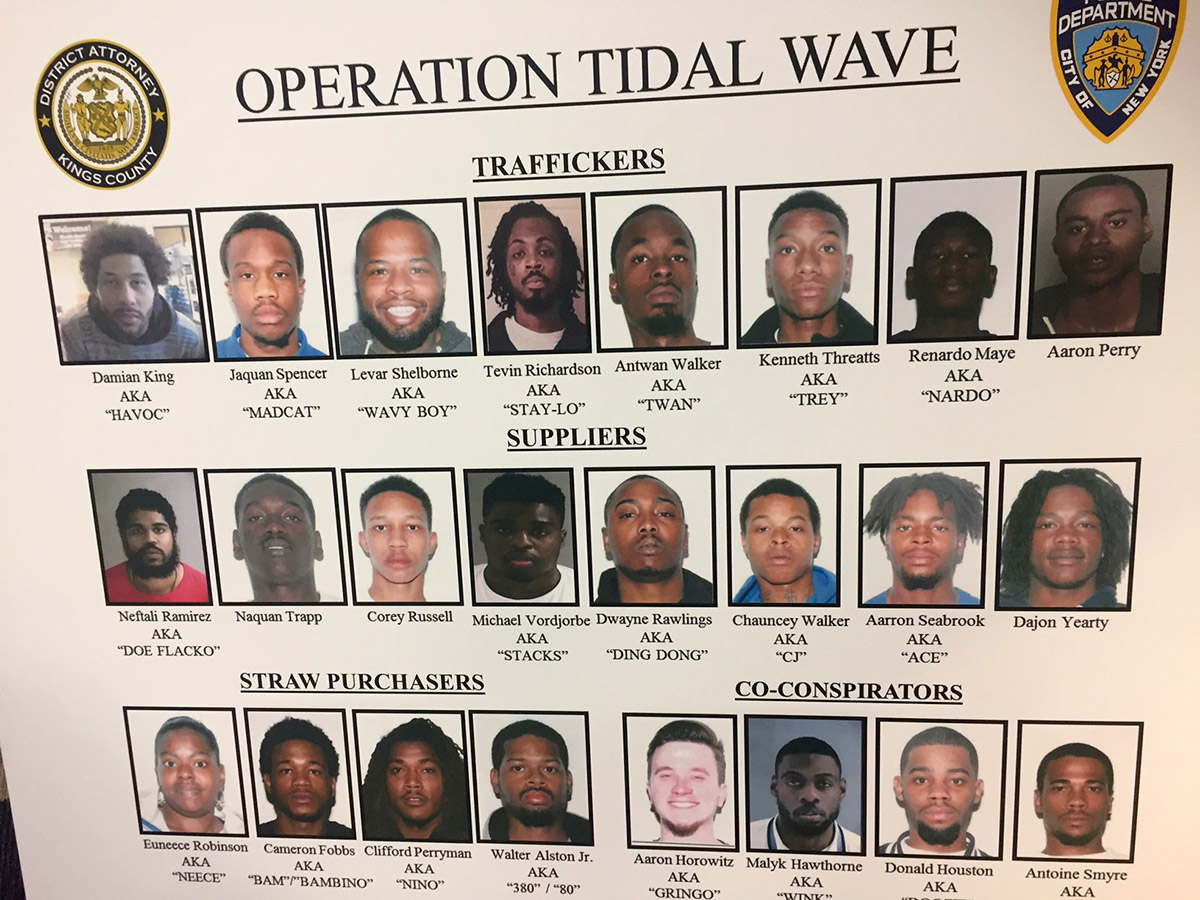 Twenty-one others from Virginia and one from New York were arrested in what is a gun bust never seen before in Brooklyn.
"This is our biggest gun trafficking case to date," said Gonzalez. "The most defendants charged and the most guns seized in Brooklyn's history."
The eight-month investigation began, investigators reveal, with one person.
"He knew of Blood gang members coming up on a monthly basis, selling guns in Brooklyn," said NYPD Deputy Inspector Brian Gill.
One arm of the alleged conspiracy in Virginia, police say, worked out of Henrico and Richmond Counties, and another from the cities of Hampton and Newport News.
The guns were transported 2 to 12 at a time to Brooklyn neighborhoods, where handguns would sell between $800 and $1200. The assault weapons were going for $1800 to $2200.
And one undercover NYPD officer made all of the purchases, "who had connected with this crew," said Gill. "This crew was affiliated with each other and they trusted him and continued to sell guns to him."
Other 'straw purchasers', police say, would buy guns legally but then allegedly give them to others for illegal sale.
"And now instead of being used in the commission of a crime, these guns here before you today have been taken out of commission permanently," said NYPD Commissioner James O'Neill.