ROCKVILLE CENTRE, Long Island (WABC) --
There is a heightened police presence at schools on Long Island after three teens were stabbed inside a Rockville Centre park Tuesday evening.
It is the second stabbing in the area over the past three days, raising concerns about gang violence.
Around 6:30 p.m., police were called to Morgan Days Park on Nassau Street where three 19-year-olds had been stabbed while playing basketball. They were taken to South Nassau Hospital with non-life threatening injuries.
According to police, a man wearing a ski mask initially attempted to punch one of the victims. When the two other teens came to assist the victim, all three were stabbed.
Rockville Centre Police Commissioner Charles Gennario said it's believed the suspect did not come with an intent to stab, adding that a fight broke out with the victim, whose friends jumped in.
"A fight broke out between he and one of the victims and that individual wasn't even a victim. That individual's friends jumped in to assist their friend," said Gennario.
The man is described as white, 35-40, 5 feet 5 inches to 5 feet 8 inches, 180 pounds, with a bald head and sleeve-type tattoos on both arms, according to the Nassau County Police Department.
Police released a sketch of the suspect: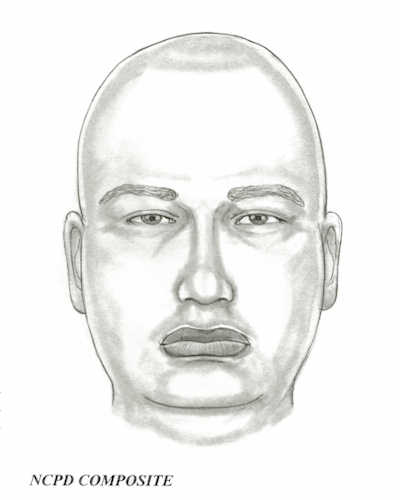 The three victims attend South Side High School. Rockville Centre School District said it added officers outside the school Wednesday.
"Those are good kids. They're not bad kids. They're not in gangs. They're athletes. This doesn't happen here," said Rockville Centre resident Sabrina Scott.
He said the Rockville Center attack is not believed to be related to Monday's triple stabbing in Hempstead Lake State Park, just a couple of miles away. The attack increased general concerns of gang related activity in the area.
Gennario said the Hempstead attack is most likely gang-related.
"So it's a coincidence that we happened to have two stabbings in two days," he said. "Not only is it a coincidence, it's an anamoly."
In
Monday's incident, three teens were stabbed
, slashed and attacked in Hempstead Lake State Park. One of the teens remains hospitalized in stable condition, the other two were treated and released.
Up to six suspects are being sought in that incident. Some of the victims and suspects are believed to attend Hempstead High School.
A spokesman for the Hempstead Union Free School District Mike Fricchione, said about Monday's incident that the district is "saddened." "As a precaution, the school district has indefinitely beefed up its security presence in and around the high school and is offering special guidance and grief counseling to students who may have known any of the victims," he said.
Hempstead Village Police will continue to be on campus at Hempstead High School Wednesday.
A high-level meeting among area police departments to address the violence was planned for Wednesday.