BELMONT, Bronx (WABC) --
It was a frightening home invasion in the Bronx, when two armed suspects tied up a 7-year-old boy who has autism, and pistol-whipped his 66-year-old babysitter. The robbers allegedly ransacked the house, and discovered a safe with thousands of dollars inside.
two thugs tied up a little boy with autism, then pistol whipped his 66 year old babysitter. and then stole a safe with a ton of money in it. https://t.co/2gpStyccSj

— Bill Ritter (@billritter7) April 1, 2017
"They ambushed me. They followed. I open the door, kid walks in, I walk in, and they're there right behind me," says Robert Ross.
7-year-old Caleb Gonzalez has autism. Ross, a neighbor and family friend, was babysitting the boy when they were jumped. The suspect pistol-whipped him in the back of the head, leaving a gash. They whacked him several times.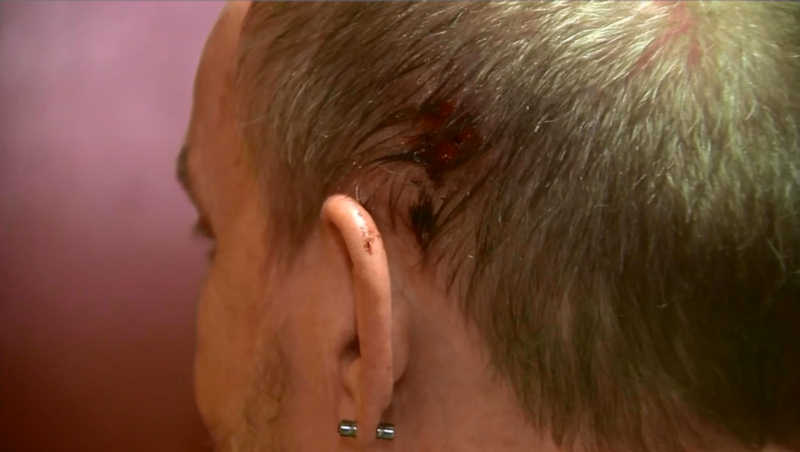 "With different objects. You can tell when something hits you, and them something else does," Ross says.
The invasion happened around 3:30 p.m. Thursday on East 181st Street in the Belmont section of the Bronx. After forcing their way inside, officers say they tied the boy and Ross up, and then ransacked the apartment.
Lorry Gonzalez, the boy's mother says they broke her bedroom door and went through her drawers and closet - that's where they hit the jackpot. Inside her closet, Gonzalez says was a $20 toy safe with $5,000 inside.
"I feel mad, and I feel very depressed about it, because they targeted my son and my neighbor - he's been there for me all the time," Gonzalez said.
Security cameras caught the pair leaving, appearing to carry the safe in a bag.
Gonzalez says her boy was unharmed, but he is traumatized.
"Last night he didn't sleep - he woke up like five or six times crying," she says.
"I didn't see their faces. The whole thing was from behind. I saw the gun - they made sure I saw the gun," Ross adds.
While Ross didn't catch a glimpse of those suspects' faces, the boy's mother says the cameras might have caught just enough. After seeing the surveillance video, she thinks she knows how they are. She says they look like the men who hang out near her cell phone store, and that she may have been targeted.