BAYONNE, New Jersey (WABC) --
Crews have been working to repair three separate water main breaks in Bayonne Tuesday morning that left several neighborhoods without water.
The Office of Emergency Management said water began bubbling into the street at West 54th Street shortly before 6 a.m., and NewsCopter 7 was over the scene of one of the breaks as workers began repairs.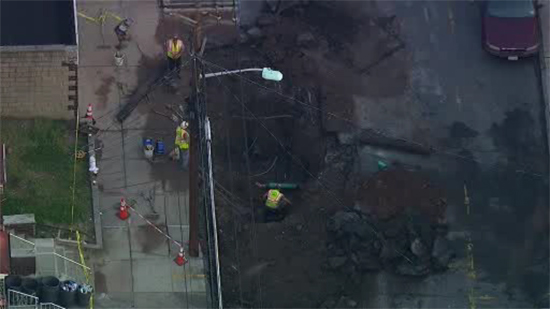 Water has since been restored to the street affected by that break, and crews are still working at the other locations. Workers ran into a minor issue with the clamping of a new pipe, and officials said they hoped for a positive report shortly.
The second break is located at the intersection of 1st Street and Kennedy Boulevard, and the third at 3rd Street and Avenue A.
The Bayonne DPW has staged potable water tankers near the sites of the breaks, which will remain in operation until full service is restored.
Residents can bring any type of vessel to have filled with clean drinking water.
Bayonne police have blocked several streets in these areas, and residents in the rest of the city are being warned there may be low water pressure. No boil water advisory is in effect.