NEW HYDE PARK, Long Island (WABC) --
Nassau County Police say at least 29 people have been injured after three cars on a Long Island Rail Road train derailed near New Hyde Park on Saturday night.
Service has also been suspended in both directions on the Ronkonkoma, Oyster Bay and Port Jefferson branches.
The train was heading eastbound to New Hyde Park just after 9 p.m., and derailed a half a mile from the New Hyde Park station. The LIRR crew reported to the MTA police that they hit a LIRR work train. It is unclear if that work train was moving but witnesses say it caught on fire, with smoke then filling the commuter train.
The injured passengers were taken to area hospitals - none of the injuries are considered serious. Passengers describe the first responders arriving quickly, evacuating the train in an orderly manner. Still, many of the passengers were left shaken.
"I'm looking or trying to find out what happened, and that's when I saw the man who probably working, that he was he was trapped under the rubble. He was trying to free himself. He couldn't move - he was pinned," said Joel Werner.
The good news is that passenger says that worker was eventually escorted off the train, and appeared to be okay.

PHOTO: Inside one of the LIRR cars that derailed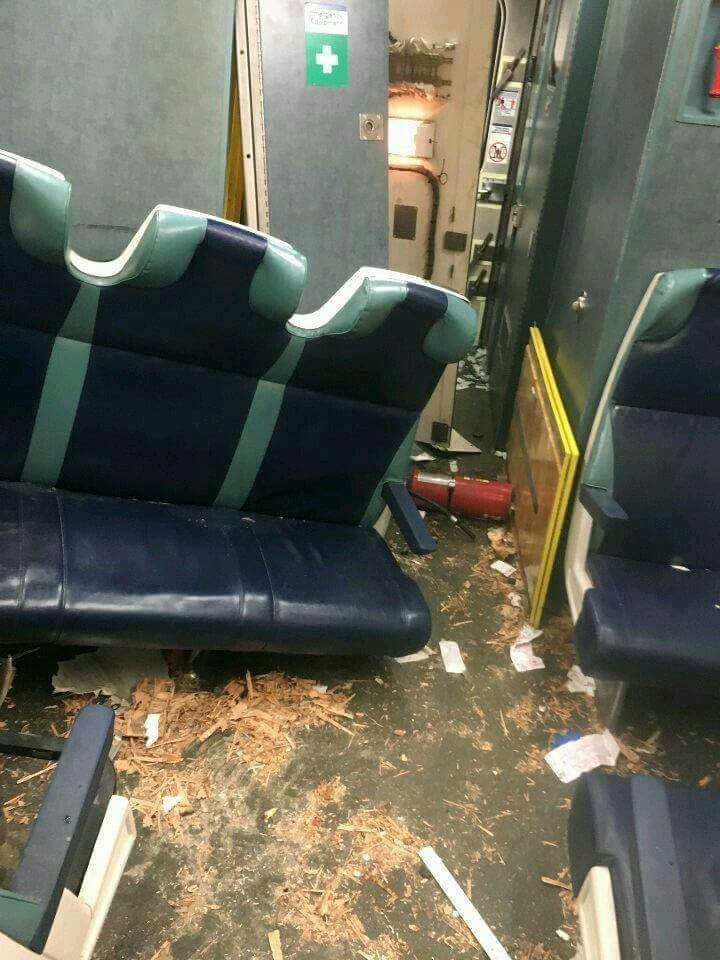 The commuter train had 12 cars, and the first three cars derailed in the accident. Approximately 600 people were on board the train at the time of the crash.
Many of the passengers say
Hoboken
was on their mind, and that added to the panic.
For the latest on delays and cancellations,
CLICK HERE
.