NEW YORK (WABC) -- In recent years, there have been a rash of rail accidents in which fatigue is believed to have played a major role. So when Engineer Michael Bakalo
slammed a passenger train into a Brooklyn station four months ago
, 7 on your Side Investigates started digging to see if fatigue might again be a factor. What was discovered is the engineer worked huge amounts of overtime, and he is not alone when it comes to long hours at the Long Island Rail Road.
Eyewitness News wanted to talk to Long Island Rail Road engineer Michael Bakalo about the long hours he worked that pushed last year's salary to nearly $200 thousand dollars.
Hoffer:
"Do you think that all the overtime you worked was a problem? Because you made a lot in overtime last year."
Engineer Bakalo:
"Have a nice day."
It was only after filing a Freedom of Information request that the LIRR told 7 on Your Side's Jim Hoffer how much the 50-year-old engineer made. Through lots of overtime, Bakalo increased his salary by nearly two and a half times his base salary of $71 thousand. Something that would have gone unnoticed, except that Bakalo crashed into a rail terminal in Brooklyn in January, injuring more than 100 people.
The engineer, who was nearing the end of his overnight shift, says he has no memory of the seconds before the crash. When The Investigators caught up with him at his home, he didn't say much, but answered one key question.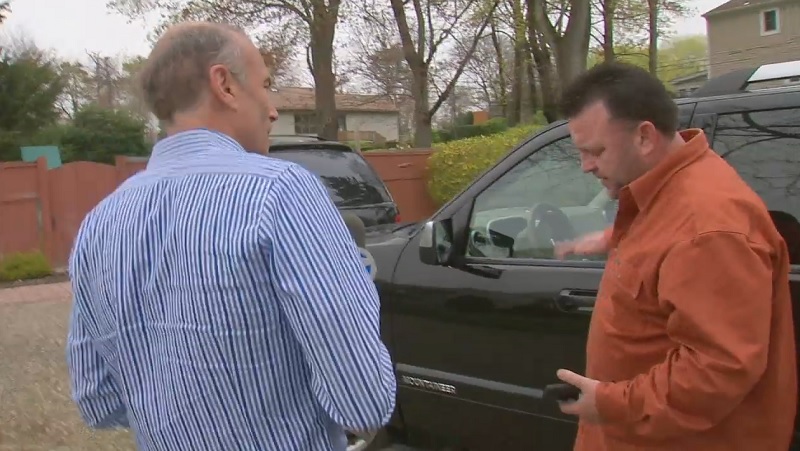 Hoffer:
"Do you think fatigue was a factor?"
Engineer Bakalo:
"No."
"There's really no other explanation for that accident, other than his lack of concentration," said Transportation Accident Attorney Andrew Maloney.
Maloney, who has represented families in major rail accidents says the fact that Bakalo does not remember slamming his passenger-filled train into the Atlantic Terminal suggests fatigue.
"The explanation for that lack of concentration is more likely than not fatigue, whether it be not getting enough sleep, or changing shifts or doing an accumulation of too many work hours in a given month, or a given year in this case," Maloney adds.
Data by the Empire Center shows that a lot of Long Island Rail Road engineers are working overtime, far exceeding the doubling of their base pay by working long days or long work weeks. Six, seven-day weeks or 12-hour days. 41 engineers are making more than $200 thousand a year.
A Federal Rail Safety Law limits work hours. An engineer can work no more than 12 consecutive hours. If he works six days in a row, he must be given two days off. An engineer can work a total of 276 hours in one month, which works out to about 67 hours per week. There is no way of knowing whether Bakalo or any of the engineers broke the hours of service rules, but the huge overtime salaries seem to suggest that they are getting close.
"You push the limit, you come close to the line, and that starts to add up. It starts to accumulate overtime. And there, if that's what he was doing, and I don't know that, but if that is what he was doing, and as the evidence, you've just pointed out seems to suggest that will take a toll on a person, and lead to fatigue while he is operating a train," says Maloney.
MTA Spokesman Aaron Donovan released a statement saying:
"The safety of our customers and employees is the MTA's top priority. There are several ways that employees can increase their earnings above base pay. A majority of the additional pay above Mr. Bakolo's base pay in recent years came from a retroactive wage increase as part of union settlement agreement and for other reasons related to work rules.
"The number of overtime hours Mr. Bakalo was allowed to work, as with all our engineers, is federally regulated. He did not exceed those regulations.
"Because of the ongoing investigation, Mr. Bakalo is no longer operating trains and is not being paid."
---------------------
SHARE YOUR STORY
Do you have a story that needs to be investigated? 7 On Your Side Investigates at Eyewitness News want to hear from you!
Email your questions, issues, and story ideas to
7OnYourSideJim@abc.com
, call our confidential tip line 1-877-TIP-NEWS (847-6397), or fill out the form above.
You can also contact Jim Hoffer on
Facebook
and
Twitter.
null