TRIBECA, Manhattan (WABC) -- More than 30 people suffered minor injuries following a carbon monoxide scare at an apartment building in TriBeCa in Lower Manhattan, fire officials said, and the store manager saved lives by acting quickly to rescue others.
Mike Jording, who manages the Amish Market on Murray Street where the drama unfolded, said it began as the workers were getting ready for the day.
"I had 25 people down in my prep area," he said. "One fainted. I went down to see why she fainted. By the time I got to the bottom of the steps, my other manager, who was tending to that lady, also fainted. At that split second, somebody else fainted right behind me, and I knew it was carbon monoxide."
Jording is 65 and has leukemia, but he rushed to carry six unconscious victims from the basement upstairs.
Firefighters responded to the scene around 8:30 Tuesday morning and immediately began evacuating and treating people.
"We found a defective boiler in the basement with some sort of broken pipe that was producing the CO," Chief of Department James Leonard said.
The situation was made more tense when people started feeling faint just as a worker opened a package in the basement, stirring worries that the parcel might have been poisonous.
NYPD, the bomb squad and FBI investigators were called to the scene, but the box was deemed to be harmless. It turned out to be a salad bowl box delivered on Monday.
Officials released photos of the box: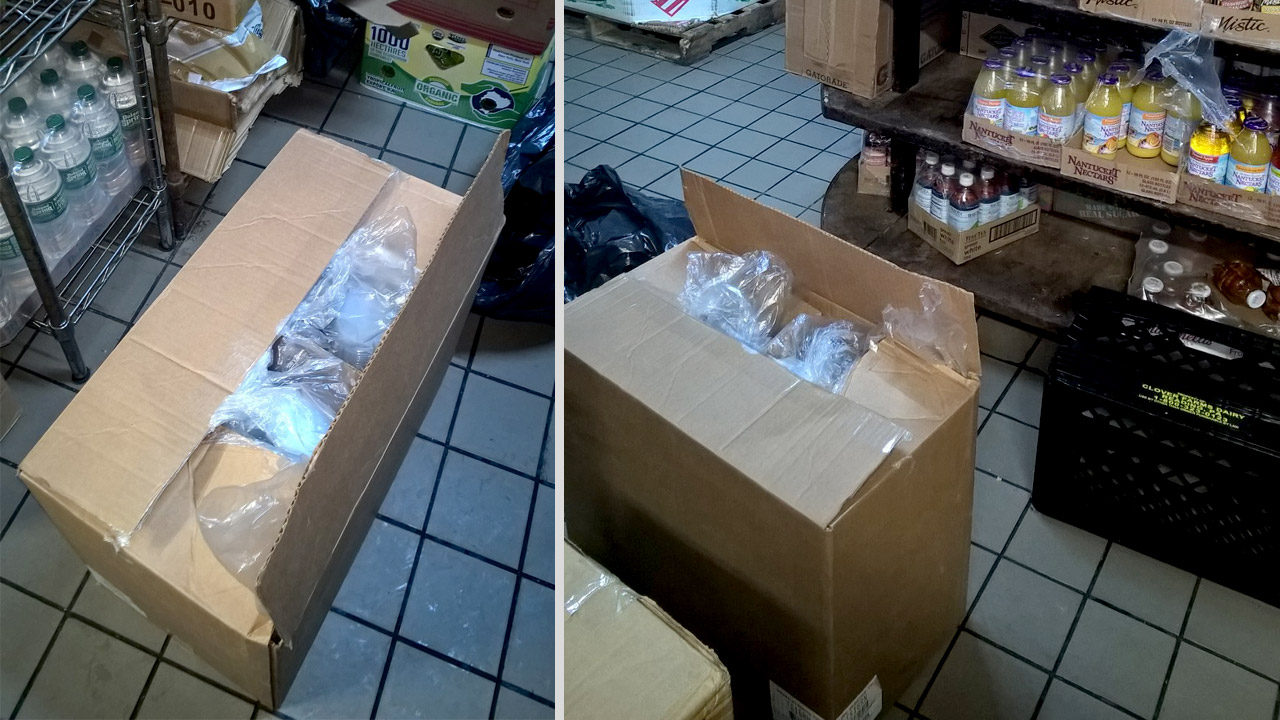 High carbon monoxide readings were detected throughout the 12-story building. The meters measure up to 1,000 parts per million, enough to "render you unconscious very, very quickly," Leonard said.
The normal level of carbon monoxide in a house can be from under zero to 15 ppm, depending on whether there's a gas stove, according to the U.S. Environmental Protection Agency.
The 32 injured people were being treated at area hospitals, but officials said the injuries were all relatively minor.
"Some had passed out, but all of the injuries were consistent with high levels of CO," Leonard said.
The broken pipe was capped and CO levels decreased by 10:30 a.m. The situation was then declared under control.
Photos: Emergency crews respond to elevated carbon monoxide levels in Tribeca
The basement of the building did not have any carbon monoxide detectors, but also was not required to have any.
"We don't need carbon monoxide detectors," Jording said. "We don't have any gas. We have no need. We have people who come and tell us there was no need to have any carbon monoxide detectors."
The city's buildings department told Eyewitness News reporter Tim Fleischer that CO detectors are not required in commercial stores or in basements, and they were not required here.
WATCH TIM FLEISCHER'S REPORT:
According to the store owner, there have been complaints about the building's boiler.
"The boiler of the building has a complete crack in it," Pat (last name not provided) said. "Our kitchen is next to that boiler, and that seems to be a problem."
Department of Buildings inspectors were on the scene investigating on Tuesday and ordered the building owners to shut down the boiler until further notice.