UPPER WEST SIDE, Manhattan -- An NYPD patrol car was t-boned at an Upper West Side intersection on Sunday night. The police vehicle was heading in the wrong direction up Columbus Avenue. However, what started everything was a man allegedly threatening random people on a busy street with a knife.
Police were responding to the terrifying scene at 66th Street and Columbus Avenue, right in front of our Channel 7 studio, when a Nissan t-boned the NYPD patrol car.
WABC-TV security cameras captured the whole thing.
"The cop was going the wrong way on Columbus Avenue, and his lights were on, and his sirens were on, but he was going the wrong way," says eyewitness Michelle Alman.
Behind the wheel in the Nissan was Eugene Kaminsky - his dog was in the backseat.
"I did not see anybody. I was standing behind a cab, so I didn't see anyone. I saw the green light - I just went. I slammed on the brakes as hard as I could, and that's it," said Kaminsky.
Witnesses say there were several other police vehicles responding to the knife-wielding man, but they say the other police vehicles were not driving against traffic.
PHOTO: Suspect's knife: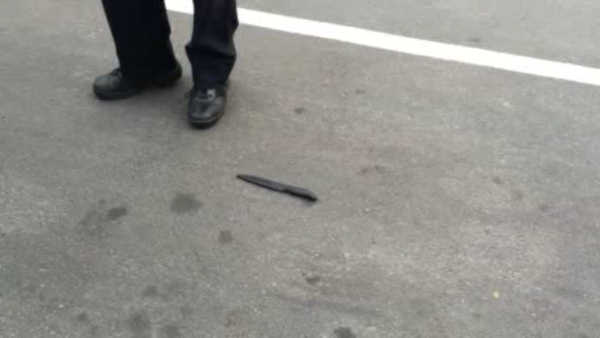 "You don't expect the cop car coming in the wrong direction," said Sophie Temis, "I just hope they don't blame him, because he's such a safe driver."
The good news is that no one suffered any major injuries. Police arrived at the scene on time before the man allegedly swinging the knife could hurt anyone.
Police arrested 28-year-old Aaron Singleton of Manhattan. Singelton has been charged with assault, menacing and harassment.
The victim lives in the area, and said he did not know the suspect.
null