PROSPECT LEFFERTS GARDENS, Brooklyn (WABC) -- Authorities are investigating a police-involved shooting Sunday morning in Brooklyn that left one man hospitalized.
It happened at about 7 a.m. as police responded after a shot spotter activation at Lefferts Avenue and Buffalo Avenue in the Prospect Lefferts Gardens section.
According to police, officers encountered 31-year-old Paul Mathurin armed with a handgun in the middle of the street.
The officers identified themselves and ordered him not to move, said NYPD Assistant Chief Steven Powers.
Police say Mathurin turned toward the officers, and three officers fired a total of 12 shots at him.
"Prior to the incident, we have a couple of witnesses that he showed the gun to them in a menacing manner..prompting them to call 911," said Deputy Chief Vincent DiDonato.
DiDonato said the witnesses described "total irrational behavior, screaming, yelling at them."
Mathurin was struck once in the hip and taken to Kings County Hospital where he is listed in stable condition. He has been identified as 31-year-old Paul Mathurin.
The officers were treated and released after being checked at an area hospital.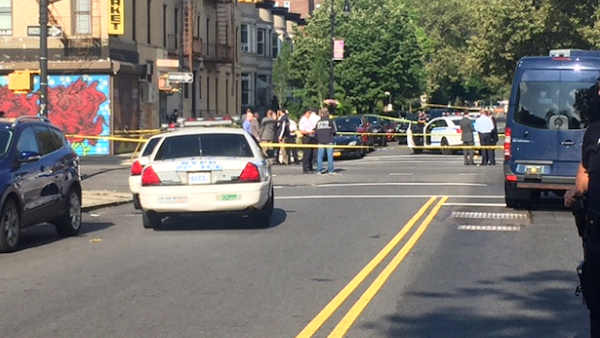 Police say the suspect's gun was recovered at the scene. null