ELMONT, Long Island (WABC) --
At least six cars were torched in an Elmont neighborhood Thursday morning, and a suspect is in custody after he was knocked out cold by one of his victims.
Police say the suspect was probably not done causing damage and could have eventually hurt someone if not for the owner of that sixth car, who happened to be awake at the time and chased the alleged arsonist down.
The interior of Vladimir Cave's Infiniti was slashed repeatedly, and he said that when he approached the suspect, the man reached into his pocket for what he believes was a knife. But before that happened, Cave said he knocked the suspect out. Then, once he realized his car was also on fire, he detained the suspect until officers arrived.
"I thought he was stealing something from the car," Cave said. "I followed him, asked him to give back whatever he took. He wouldn't listen and kept walking, and I said I'm going to call 911 if you don't give back whatever you took. And that's when he proceeded in attacking me. And I just defended myself."
Cops arrested 37 yo Juan Perez for burning cars in Elmont & stealing stuff out of them. Say went on 90min drunk rampage. He lives nearby.

— CeFaan Kim (@CeFaanKim) May 26, 2016
Cave said the suspect, identified as 37-year-old Juan Perez, seemed disturbed, and he says he's concerned for Perez's well being. Other victims were shocked when they saw their cars on fire.
Juan Perez: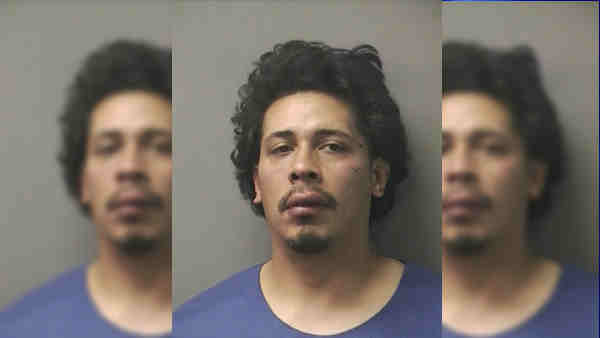 "We heard a loud bang, and then we woke up and saw her car engulfed," car owner Wendy Saravia said. "We didn't know what was going on."
Savaria's car and her sister's both went up in flames.
The cars started catching fire just before 4 a.m., with the first reported near the intersection of Atherton and Terrace avenues just before 3:45 a.m.
The fires surprised residents in the quiet neighborhood, and police K-9 units were brought to the scene.
"It's gotta be someone who's ill," car owner Carl Ford said. "You don't do something like this if you're normal."
He said the destroyed car was a gift to his wife.
"As you can see by the plate, it was my wife's engagement present back in 2008," he said. "So that was her baby, and now it's gone."
No other injuries were reported.