HOBOKEN, New Jersey (WABC) -- Some Hoboken residents are still under a boil water advisory after a water main break Monday that flooded streets.
Crews dug up the road overnight in order to repair the 12-inch pipe at First Street between Willow Avenue and Grand Street in Hoboken. The main broke at around 6:15 a.m. Monday, creating a sinkhole that swallowed a Nissan Maxima and other cars, when the pavement gave way.
Suez Water responded to the break and closed off the area to traffic. Police quickly towed cars and diverted traffic as the water spewed for nearly two hours until it was shut off at about 8 a.m.
On Tuesday, Suez said that customers in the affected area had water service through bypass piping. Road restoration began Tuesday morning, but the precautionary boil water advisory remained in effect for customers on First Street between Clinton and Willow. No other areas of Hoboken are under a boil water advisory.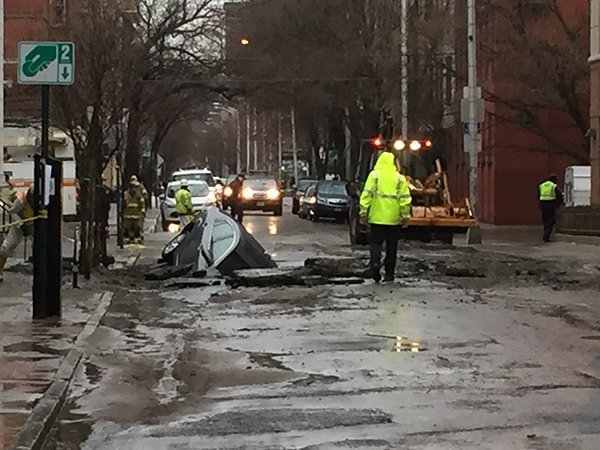 Cars were swallowed by a large sinkhole that formed, and had to be lifted out by a crane.
Phill Syder's Mazda was hoisted out, but undoubtedly the damage had already been done. The car was paid off and had a fresh battery installed just last week, he said. This hassle also cost him a day of work.
Hoboken Schools were open Monday but water pressure was fluctuating throughout the afternoon. The main break was also very inconvenient for business owners who had to remain closed while work was being done.
The city tweeted that the break has been isolated.
Broken main has been isolated; water pressure restoring thru city. Block of 1st (Clinton-Willow) will be w/o service until repairs completed

— City of Hoboken (@CityofHoboken) March 14, 2016
SUEZ has issued a precautionary boil water advisory today to residents in the following section of Hoboken: On First Street, between Willow Avenue and Clinton Street.
Residents and businesses in the affected area should boil their water for at least one minute for the following: drinking, cooking, or baking, making ice cubes, taking medication, brushing teeth, washing food, mixing baby formula or food, mixing juices or drinks, feeding pets, and all other consumption.
Water does not have to be boiled for the following activities: showering, washing dishes or clothes.