MIDTOWN, Manhattan (WABC) -- Crews are still on the scene of a large water main break that sent a huge plume of steam into the air and caused some street closures Monday morning in Midtown Manhattan. The break happened at about 9:40 a.m. at 106 West 58th Street.
58th Street between 6th and 7th avenues is now open to pedestrian traffic but remains closed to vehicles.
Witnesses tell Eyewitness News that roughly three and a half hours before the incident, there were red flags there was a problem.
58th Street between 6th and 7th Avenues was still a mess on Monday evening - roughly 350 customers and 14 buildings do not have water, as officials with the Department of Environmental Protection try to pinpoint exactly what happened.
(Photo from @shyspine)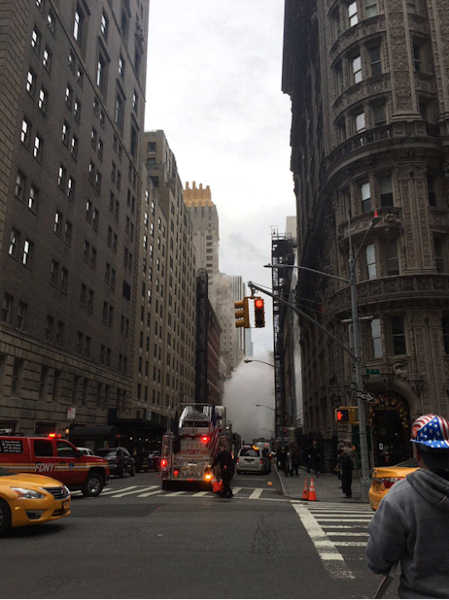 "I never get nothing (sic) while I'm on the job - they stopped, I was like 'let me go get a coffee real quick," said Jonathan Hoyos.
It's a good thing Hoyos did, because second later the break happened in the exact spot he had been sitting in a cement truck. A plume of steam suddenly erupted on 58th Street. Hoyos couldn't believe how close he came to seriously getting hurt. He told his story to only Eyewitness News.
"The asphalt cracked, and all the smoke was coming out like crazy. It was like everything was going to fall down. Like it was going to be a huge sinkhole," he said.
Officials say around 9:40 Monday morning, there was a leak in a water main below 58th Street between 6th and 7th Avenues. The water spilled onto a steam pipe underground and in two separate spots around the corner from each other. The chain reaction the caused vapors, witnesses say, to shoot at least seven stories high up in the air.
(Video courtesy Erix X T via Twitter)
"There was a huge cloud of white smoke, and then I got like a waxy substance on my glasses, and it was pretty hard to clean off - I got it all over my coat," said Alejandra Lopez.
It all happened right as construction crews were beginning a job on 58th Street. Several workers told Eyewitness News there were red flags much earlier Monday morning, indicating that there was a problem. They say specifically there was a problem one building on the block with a red parking sign.
"I couldn't park over there because they have water problems," said one man who didn't want to reveal his identity.
The water problems occurred at 6:00 in the morning, roughly three hours before the incident happened. Then at 7:30, crews were about to start pouring cement.
"They stopped us. It's simple because it's too much steam. Too much steam in the cellar and sub cellar of (that) structure," the man said.
With too much steam in the cellar and sub cellar of the structure, they were ordered to evacuate the building.
Crews were out in the area taking samples, which will be tested at the lab. The concern now is asbestos.
The road also buckled, and is damaged, and there is no telling how long that, or the pipes underneath 58th Street. will take to be fixed.
null