GREAT NECK, N.Y. (WABC) -- The Long Island woman crushed by a 5,000-pound tree that crashed through her roof while she was sleeping is grateful to be alive.
Five days after the tree landed on top of her, 20-year-old Stephanie Epstein, of Great Neck, talked with reporters about the experience that should have taken her life.
No one has been able to answer the question as to how she survived - not her doctors, not Epstein, not the paramedics who saved her. She had no broken bones, no serious internal injuries - only muscle damage to her lower extremities.
Rescuers credited the fact that Epstein was
sleeping on her side as being what likely saved her life
.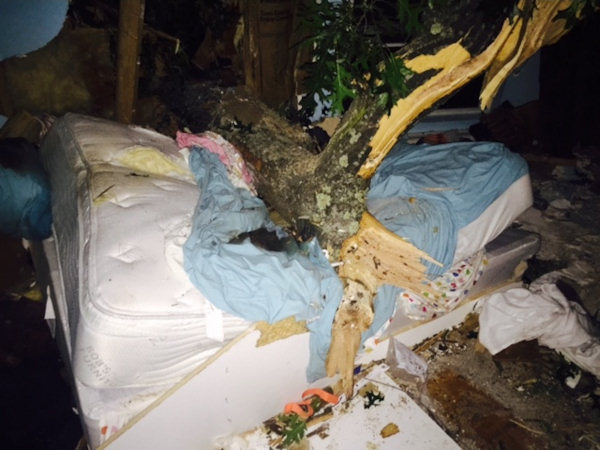 (Image courtesy: The Vigilant Fire Company)
The incident happened late Sunday when the whole family was asleep. Her father came running into the room and could not believe what he saw.
"The first instinct is to slap your face, literally, wake up from this dream," Geoffrey Epstein said. "When you realize it's not, you say, let me lift up this branch and you realize there is a tree trunk laying across your daughter. I swear, it's the most frightening moment of my life."
It took rescue workers two hours to remove the tree and free Stephanie Epstein. She was very emotional in talking about the ordeal.
"I cannot express in words how thankful I am for everyone who saved my life, from the firefighters to the police officers, to Steve, to the doctors, to the paramedics. Without them, I wouldn't be here. I didn't think I would make it," said Epstein.
Stephanie Epstein was released from the hospital Friday.
Emergency officials aren't sure if storms that passed through that night caused the tree to fall.