MANCHESTER, New Jersey (WABC) -- Police in New Jersey say two women had to be rescued after a dump truck overturned and spilled a load of rocks and debris on top of their car.
The truck was headed south on Route 539 in Manchester Township on Monday afternoon when it hit the driver's side of a Nissan as it was making a left turn, causing both vehicles to leave the roadway.
After hitting signs and trees, the truck overturned onto the Nissan's roof and spilled its load of thousands of pounds of stone onto the car.
Police say the car's driver, 24-year-old Andrea Penna of Whiting, and a passenger, 22-year-old Kaitlyn McCabe of Lakehurst, were trapped underneath stone and debris as the roof collapsed on top of the car.
"Me and my neighbors grabbed a whole bunch of shovels and we came back and got to work trying to dig it out," said rescuer Ed Otreba. "I couldn't get the car door open so I started working on that first."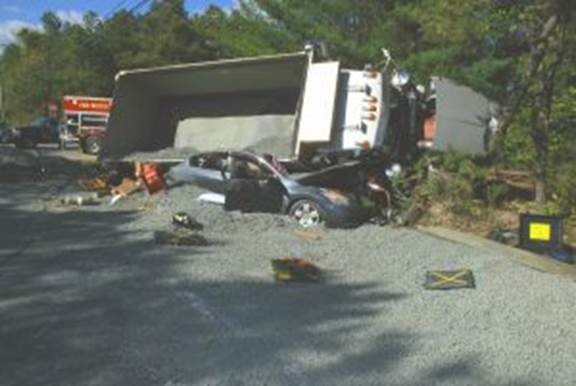 The victims in the car were buried in rocks and terrified.
"It's wonderful how people can get together and help like that when there's a horrible tragedy," said McCabe's mother Brenda.
The rescuers included an off-duty New York City police officer who was one of the first on the scene.
Kaitlyn McCabe was pulled out first, but Andrea Penna was still stuck and fear was rising.
"She was obviously very scared, she was frightened. She couldn't feel her legs, she was in pain and our main priority was to get her out as quickly as we could," said Manchester police officer Ian Bole.
Rescuers extricated her, and she was taken to the hospital with non-life threatening injuries.
McCabe and the driver of the truck also sustained non-life threatening injuries.
The first police officer on the scene said he thought it was a miracle that both women were able to walk away.
State police, state department of corrections employees and other motorists stopped to dig the car out.
The roadway was closed for several hours during the rescue, investigation and subsequent clean-up.
The crash is under investigation.