LOWER MANHATTAN, New York (WABC) -- New York City's mayor said Tuesday's terror attack involving a truck striking and killing eight people on a bike path in Lower Manhattan "was an attack on our values."
"This violence was an effort to make us blink, and we won't blink," Mayor Bill de Blasio said.
Investigators said the driver of the truck, identified as 29-year-old Sayfullo Saipov, appears to have followed ISIS instructions "to a T" in intentionally driving a rental truck onto the path, mowing down pedestrians and bicyclists. They added he left behind a note saying he did the attack on behalf of ISIS.
"These were the actions of a depraved coward," Gov. Andrew Cuomo said.
Watch the full statements from Mayor de Blasio and Gov. Cuomo here:
The truck barreled along the bike path for the equivalent of about 14 blocks, or around eight-tenths of a mile, before slamming into a small yellow school bus.
SCENE PHOTOS: Truck mows down crowd on bike path
Saipov jumped out of the truck with what turned out to be two fake guns -- a pellet gun and a paintball gun -- in each hand and shouting "Allahu Akbar!," officials said
NYPD officers shot him in the hip and took him into custody. He's expected to survive.
Video showed him running through the street, likely before he was stopped by NYPD.
The mayhem and the burst of police gunfire set off panic in the neighborhood and left the pavement strewn with mangled bicycles and bodies that were soon covered with sheets.
RELATED: What we know about rampage suspect Sayfullo Saipov
"I saw a lot of blood over there. A lot of people on the ground," said Chen Yi, an Uber driver.
His drivers license shows an address in Tampa, Florida, but sources said he also has a recent address in Paterson, New Jersey.
The truck is a white Home Depot rental truck, which can be seen in this photo provided by NYPD:
RELATED: Witnesses describe terrifying scene after West Side Highway incident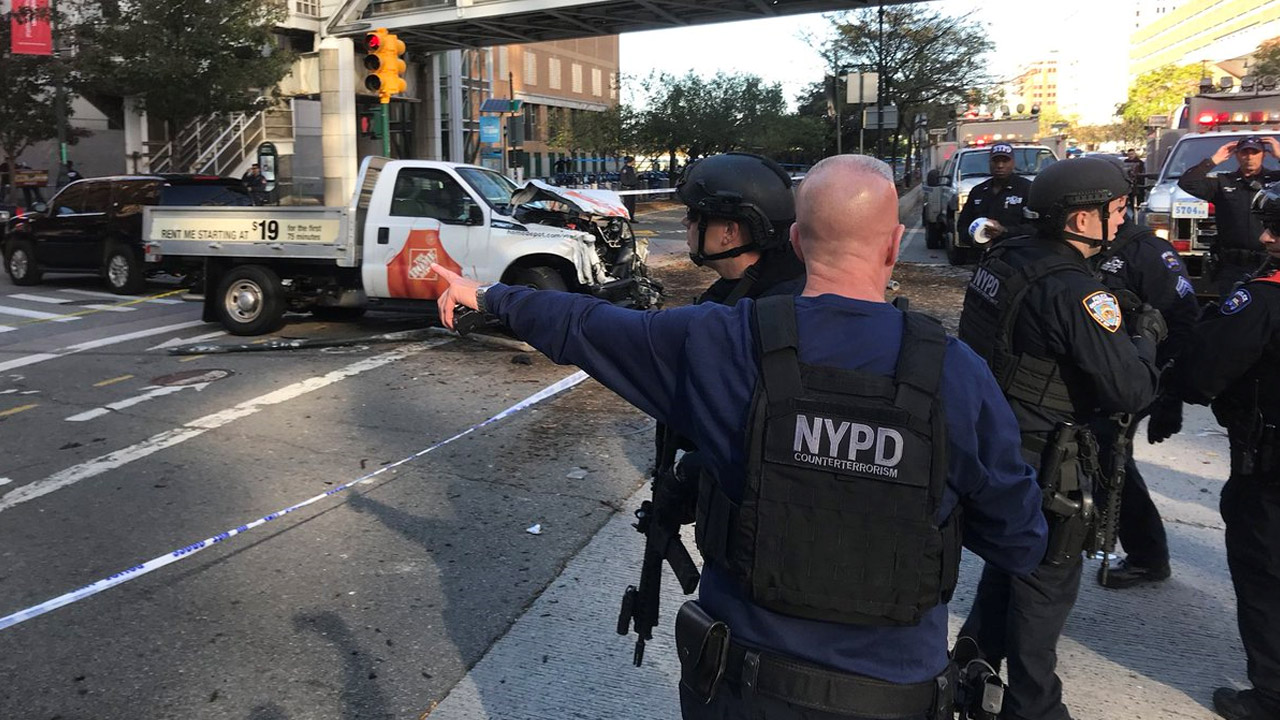 Officials said Tuesday's attack does not appear to be connected to any bigger terror plot. New York Gov. Andrew Cuomo said there is no ongoing threat in New York City, but New Yorkers should expect to see more security.
The FBI is working with the NYPD in the investigation.
CALL FOR PUBLIC'S HELP
Investigators are seeking the public's assistance in the investigation. The FBI and NYPD are asking anyone with any images or videos that could assist in the investigation to upload their files through this form: www.fbi.gov/nyctribeca
In addition, any information to assist in this investigation can be called into either the FBI at 1-800-CALL-FBI or the NYPD's Crime Stoppers Hotline at 800-577-TIPS or for Spanish 1-888-57-PISTA (74782).