NEW YORK (WABC) -- Both Hillary Clinton and Donald Trump took aim and fired at each other on Sunday - this after the NRA endorsed Donald Trump.
However the real numbers are in the polls. For the first time ever, Trump edged ahead of Clinton - it's just the slightest lead, but it shows the numbers are shifting.
The poll by ABC News and the Washington Post shows Trump with 46 percent and Clinton with 44 percent.
However the flip side of the coin might prove just as critical. Both candidates carry high negativity rates, and in that corner, Trump is also ahead.
According to the same poll, the unfavorable ratings have Trump at 60 percent and Clinton at 53 percent.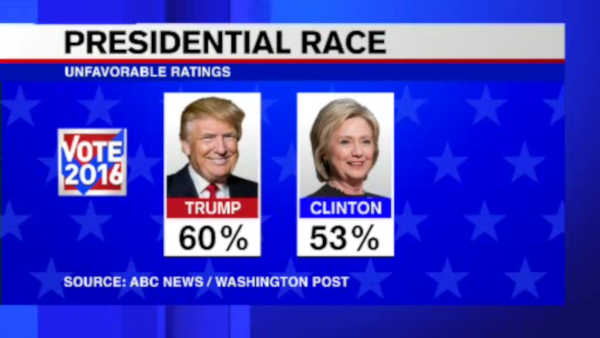 Clearly the two are neck and neck in both polls. What is unpredictable now is how those negative numbers will affect voters come November.
Until then, Bernie Sanders continues his push to the finish, chipping away at Clinton's candidacy.
The poll shows Republicans lining up behind Trump as their party's presumptive nominee while the continued Democratic race is keeping Clinton's side more unsettled.
Greater voter registration among Republicans is one factor: Clinton's 6-point lead among all adults, 48-42 percent in a general election matchup, switches to essentially a dead heat among registered voters, 46 percent for Trump, 44 percent for Clinton. Regardless, the contest has tightened considerably since March, when Clinton led among registered voters by 9 points.
Trump's enhanced competitiveness reflects consolidation in his support since his primary opponents dropped out, and it comes despite significant challenges to his candidacy.
Fifty-eight percent of Americans call him unqualified to be president, 60 percent see him unfavorably overall, 76 percent think he doesn't show enough respect for those he disagrees with and 64 percent say he should release his tax returns (with most feeling strongly about it). These include majorities of registered voters on each item, representing opportunities for Clinton.
Republicans and Republican-leaning independents, moreover, split 46-46 percent on whether or not Trump represents the core values of the party. That's sharply improved from 29-56 percent in July, but it leaves the party still divided on a key measure of Trump's suitability.
Clinton has challenges of her own -- 53 percent of Americans (and 57 percent of registered voters) see her unfavorably, making this a matchup between the two most unpopular likely presidential candidates in the history of ABC/Post election polls, dating back to 1984.
null