CROWN HEIGHTS, Brooklyn (WABC) -- Protesters in the community of Crown Heights are demanding answers after a neighborhood staple was killed by police this week.
On Thursday, the NYPD released surveillance videos showing the terrifying moments that prompted 911 calls and eventually ended in the fatal shooting of 34-year-old Saheed Vassell.
Officers responding to reports of a man threatening people with a gun in Crown Heights Wednesday
fatally shot Vassell, who was carrying a metal pipe
that was mistaken for a firearm, police said
Vassell was taken in critical condition to Kings County Hospital, where he died.
The incident happened on Montgomery Street and Utica Avenue just before 5 p.m. According to NYPD Chief of Department Terence Monahan, police received 911 calls about a man pointing what was described as a silver firearm at people on the street. Video showed him approaching passersby and pointing the pipe at them in a threatening manner, simulating a firearm.
"Imagine a situation where, God forbid, someone is out there for whatever reason ready to use a weapon immediately," Mayor Bill de Blasio said Friday. "Our officers have to intervene at the first available moment...Sometimes things are playing out in a matter of seconds, and we just have to be clear, until we have all the facts we can't pass judgment."
Related: Saheed Vassell's parents: Police did not have to shoot our son
Four officers discharged their weapons, firing a total of 10 shots and striking the suspect. The object he was holding turned out to be the top of a welder's torch.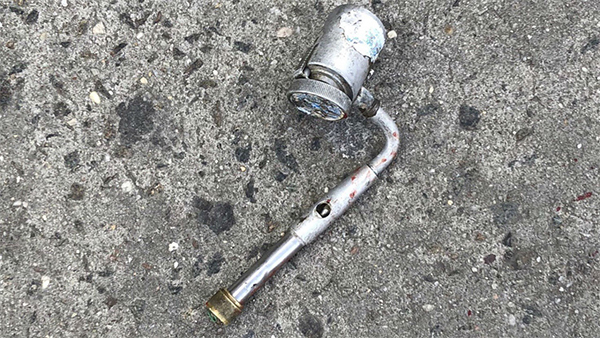 Eyewitness News has learned that the entire encounter took less than 10 seconds, and that the four officers were Caucasian, African-American, Latino and Middle Eastern. All remain on active duty tonight.
On Thursday evening, Crown Heights Community Members marched to demand NYPD accountability and systemic changes Vassell was shot and killed:
"This was not an EDP call, this was not an emotionally disturbed call, this was a call of a man pointing what 911 calls people felt was a gun at people on the street," Monahan said. "When we encounter him, he turns with what appears to be a gun at the officers. We have to stay straight to the facts of this incident today."
The New York State Attorney General's Office announced it will investigate the incident.
"The Attorney General's Special Investigations and Prosecutions Unit has opened an investigation into the death of Saheed Vassell," press secretary Amy Spitalnick said in a statement. "We're committed to conducting an independent, comprehensive, and fair investigation."
An executive order by Governor Andrew Cuomo appointed the attorney general as special prosecutor to oversee investigations into incidents where unarmed civilians die during interactions with police or incidents where there is significant question as to whether the civilian was armed and dangerous.
The NYPD will also perform an internal review, which is standard procedure.
Mayor Bill de Blasio noted that Vassell's family spoke of his "profound mental health problem," urging families with similar concerns to seek professional help. While he stressed the investigation is in its infancy, he noted several times that police officers responding to a reportedly armed person have to make split-second decisions, and earlier intervention could have averted tragedy.
Trying to find an officer familiar with Vassell "in that moment of emergency" was "already very, very late in the trajectory," he said.
Vassell had 23 prior arrests, including a 2003 assault for biting his ex-girlfriend's hand and punching her, a 2005 robbery, and a 1999 gang assault. Four other arrests involved gun charges. He had been issued 120 summonses and had a history of mental health interactions, including at least one contact with police where he was described as being emotionally disturbed.
After the police shooting, dozens of police cars converged on the area and a crowd of about 200 people gathered around the cordoned-off intersection. Some people in the crowd shouted at police.
One officer suffered minor injuries.
----------
*
More Brooklyn news
*
Send us a news tip
*
Download the abc7NY app for breaking news alerts