SHIRLEY, Long Island (WABC) -- Five people are dead after a violent crash on the westbound Long Island Expressway, including a former aide to Governor Andrew Cuomo, an 81-year-old man and a family of three from Hempstead.
The family of three is a very large, tight-knit family, and have about 60 cousins who all live nearby. The family gathered Sunday night still in shock, saying they feel like it's a nightmare they can't wake up from.
"They all live together - they live in one house, so one day the whole household disappears," said the victims' cousin, Liliana Hart.
Hart says her cousins were inseparable, and were always the life of the party. They were all killed in the horrific crash on the Long Island Expressway Sunday morning while heading to a water park to celebrate 10-year-old Christopher Pinales' birthday. Just minutes from their destination, they were killed.
Carmelo and Patricia Pinales' mother said she spoke to them this morning, thinking she would see them when they got home from the birthday celebration. The violent crash happened near Exit 68 in Manorville around 9:30 a.m. The collision was so vicious that some of the victims were ejected from their vehicles and others had to be cut out.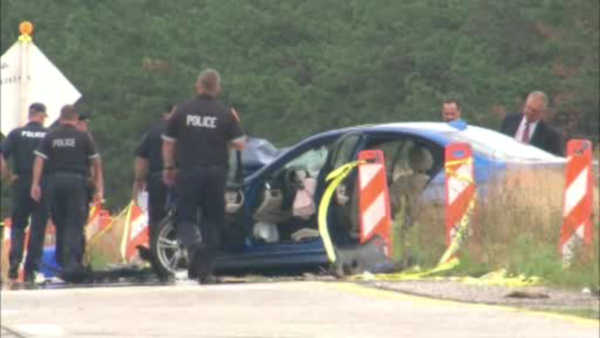 Investigators say Carmelo was driving Eastbound when he apparently lost control of the vehicle, which crossed over the grassy median, hit a ditch in the grass, then went airborne and struck two vehicles heading right at them. Two others were also in Pinales' car, including Patricia's 3-year-old daughter. The other passengers were injured, and are expected to be okay.
Also killed in the crash was Scott Martella, a Communications Director at the Office of Suffolk County Executive Steven Bellone. He also worked previously for Governor Andrew Cuomo's office. Martella's fiancee, 29-year-old Shelbi Thurau was transported to a local hospital where she is being treated for non-life threatening injuries.
Relatives of the Pinales' family say they believe an earlier accident left an oil spill, which contributed to the crash.
Police are continuing to investigate.